Scotland: Emotional Gordon Strachan overjoyed at opening win
Last updated on .From the section Football150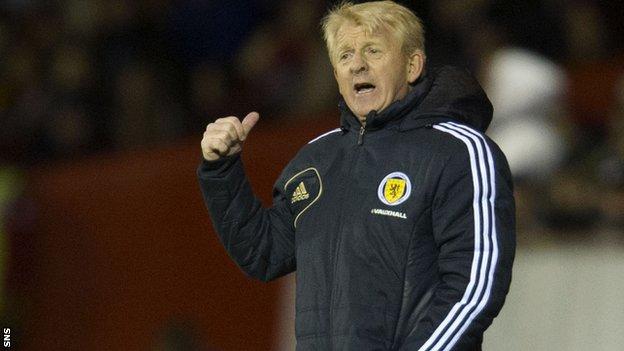 Gordon Strachan has said managing Scotland for the first time was the most nerve-wracking experience he has had in football.
"It's been a terrific night for me," Strachan told BBC Scotland.
"I must admit, no matter what club I've signed for, I think that's the most emotional and nervous I've been. I'm more relaxed now and I'm really happy."
Despite the hosts creating several chances, it was only Charlie Mulgrew's 39th-minute strike that ended up separating the sides in the friendly international.
Mulgrew's first goal for Scotland came via a well-worked Charlie Adam free-kick.
Strachan said the match was a very worthwhile exercise, letting him see the players he has at his disposal before the next World Cup qualifying games in March [Wales (h), Serbia (a)].
He said: "I think tonight you saw the guys who play regularly and the ones who don't play so often.
"We need to be even braver, to find the good players who can take people on instead of playing it square so often - get these good players on the ball early.
"When we did find them, I think the good players sometimes were a bit negative. I thought, 'go on, do that, turn quickly, get in'.
"Sometimes we need to remember we can't find these players in pockets [of space] and they've got to go somewhere else.
"We did a lot of work in terms of what we might be up against in the next two games rather than what we might've faced tonight.
"I saw things and thought, OK, that can work or that's not going to work."
Chris Burke, collecting his first international cap since 2006, was perhaps the stand-out performer in Scotland's team.
The Birmingham winger only played the first half but his trickery and threat were there for all to see.
And Strachan was more than happy with what the 29-year-old brought to the table.
"He's fortunate that I live in the Midlands," said Strachan.
"I've been watching him for a year and a half. He's been absolutely terrific.
"Robert Snodgrass had a heck of an act to follow and I thought he was terrific as well."