Jack Wilshere's display against Brazil excites England fans

By Phil McNulty
Chief football writer
Last updated on .From the section Football541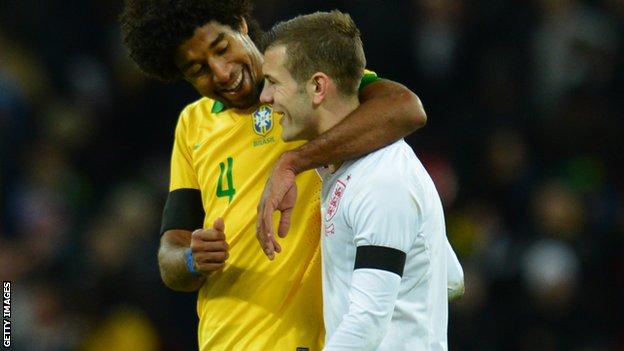 AT WEMBLEY
Jack Wilshere has a lot of lost time to make up for - so he will offer no apologies for reducing England boss Roy Hodgson's attempts at expectation management to an exercise in futility.
As a sell-out Wembley rose to acclaim Wilshere when he was voted man of the match in England's 2-1 win against Brazil, the world was suddenly a better place to be for Hodgson.
If Arsenal's 21-year-old midfield man had waited patiently for this moment of fulfilment after those 15 months out with an ankle injury, Hodgson had also had to bide his time before placing a pivotal piece into his emerging England team.
Brazil's Neymar suggested before the game that England were a one-man team - that one man being Wayne Rooney. He may wish to revisit his opinion after a close encounter with Wilshere.
Hodgson, delighted by a highly promising England performance, admitted he had tried to keep a lid on the high hopes surrounding Wilshere as the Arsenal midfielder prepared to win only his seventh cap in an injury-curtailed young career. Hodgson walked into Wembley's media theatre for the post-match briefing with the notion forgotten, saying: "As long as Jack is comfortable with the expectations why should I worry?"
Wilshere was making his first start under Hodgson and his first start in midfield alongside England captain Steven Gerrard. Their international paths had only previously crossed for 13 minutes during the friendly defeat in Stockholm. On this evidence they looked an ideal combination of maturity and fearless youth.
And while we must place all things in the context of this not being a vintage Brazil, ranked 18th in the world and in the process of construction towards the World Cup in their own country next year, Wilshere's performance was worthy of the excitement and optimism it generated.
Any win against Brazil carries weight and Wilshere was the heartbeat of a victory that was only England's fourth against them in 24 attempts. From a surging run in the opening seconds to a small, vital interception on Neymar in the closing moments, he was England's driving force.
In a week when the football world, particularly in England, is expressing its concern for the welfare of Paul Gascoigne as he once more struggles with his demons, there were moments when Wilshere offered a poignant flashback to the Geordie in his pomp.
The puffed out chest and positive ball-carrying intent, the willingness to dribble, offered an echo of Gascoigne alongside a relentless desire to create and provide for the likes of Wayne Rooney, another significant England figure at Wembley.
Wilshere relished the physical challenges, set up an early chance for Danny Welbeck and provided a perfect pass for Theo Walcott that led to Rooney's opening goal. The concession of a penalty when being adjudged to have handled Ronaldinho's cross may constitute marks off, but this was a harsh award and Joe Hart assured a measure of justice by saving the great Brazilian's spot-kick.
The sight of those famous yellow Brazilian shirts in opposition did nothing to daunt Wilshere. He looked perfectly at home in opposition and in some moments he suggested he would look perfectly at home alongside them.
In boxing parlance, Wilshere's passing offers the sort of short, sharp blows to the opponent's body that can do real damage while Gerrard was happy to adopt a role that allowed him to control affairs from a deeper position.
If a few England brows were furrowed at the prospect of that testing trip to Podgorica to face Montenegro in a crucial World Cup qualifier next month, the restoration of Wilshere to the colours will ease some, not all, of those concerns.
England will need Wilshere at his best in Montenegro's hostile environment against a team that is an increasing danger to their ambitions of World Cup qualification.
There was plenty to satisfy Hodgson. Walcott demonstrated his recent fine form on the right flank and England embraced their manager's willingness to move even further away from the 4-4-2 formation that was his template for so long.
Ashley Cole was warmly welcomed by Wembley as he won his 100th cap although this good impression from the crowd was marred by a very poor observation of the minute's silence to mark the 55th anniversary of the Munich Air Disaster, 20 years since the death of England's World Cup-winning captain Bobby Moore and to commemorate the victims of the recent Santa Maria fire in Brazil.
If Wilshere is now finally embarking on what should be a long England road, the game was settled by one of their most enduring figures as Frank Lampard scored his 27th international goal on the hour.
This perfect professional simply refuses to go quietly, either for Chelsea or England. The natural instinct for goals means he can still make the contribution that wins games and even at 34 he is of service to Hodgson.
Hodgson admitted as much with a clanging post-match hint that if Lampard did not stay at Stamford Bridge he would prefer him to remain in England or elsewhere in Europe to make it easier to prolong his England career. The prospect of Lampard moving to LA Galaxy clearly does not fill Hodgson's heart with joy.
Happily for England's manager, Wilshere has pledged his long-term future to Arsenal and will remain right under his nose for many years to come.
England were not facing a prime time Brazil but it is a hard heart that does not give full credit for a victory against them. Not a time to get carried away but not a time to pour cold water on the achievement either.
Brazil will be a different proposition in Rio in June and Montenegro will present an altogether different challenge on their home territory - but there is no reason why Hodgson and England cannot be very happy with their night's work.