Gus Poyet sets Brighton & Hove Albion points target
Last updated on .From the section Football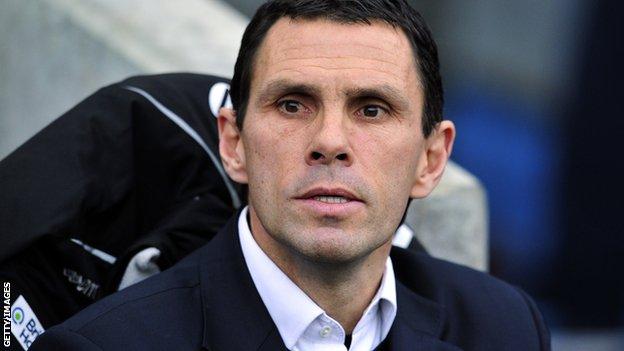 Brighton boss Gus Poyet thinks his side will need around 75 points to secure a play-off berth in the Championship.
The Seagulls are currently eighth in the table, five points off the top six, with 42 points from their 29 games.
He told BBC Sussex: "Things are tight this year and there are so many teams beating each other that maybe one will get in with less.
"You need to aim for around that number to have any chance. We are going to try everything possible."
He added: "We will use the best players as much as we can without losing them and we need to be smart [not to lose players to suspension]."
In each of the past six seasons, a club has needed at least 70 points to finish sixth in the Championship table and get a place in the play-offs.
In half of those campaigns, 75 points has been needed to stay in contention for promotion to the Premier League.
Albion have drawn 12 league games this season - the most in the division - and the Uruguayan says his side must make the most of their superiority in games from now until the end of the season.
"We cannot make any more mistakes," he said.
"I would like to be in a situation where if we are the better team, we win the game.
"If the opposition is better and we cannot do anything about it and we try our best, we take it.
"In the previous 10 games at home we had the chances to win most of them, apart from a couple, but we didn't.
"When we are in a great situation to win a football game, something happened; either a sending off, an individual mistake or a referee's mistake.
"It is time just to make sure we are better and win the game."
Last season the Seagulls did not win any of their last eight league games and finished tenth in the table with 66 points, but Poyet is hopeful of surpassing that.
"I think we are better than last year, have a better squad and have been playing better than last year," he added.
"Will that be shown in the table?
"Let's wait and see. But I have a great expectation and I think we will.
"Let's hope we can finish [the season] better. It's not about luck.
"When you are better you need to show it and get the points. When you are not, somehow you need to get something from the game.
"That's what the biggest teams do because they know how to play the game.
"From now until the end of the season it is only about winning.
"Will we take more risks? Probably."