Hartlepool United: John Hughes wary of Di Canio 'siege mentality'
Last updated on .From the section Football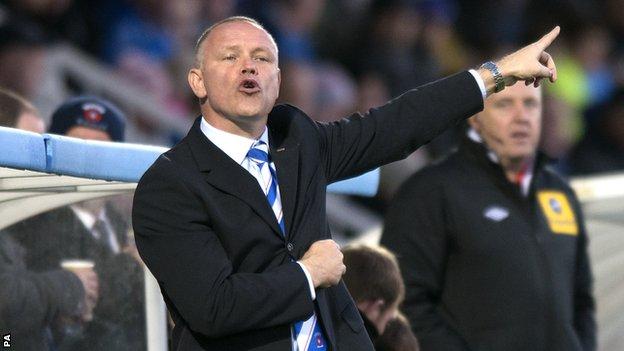 Hartlepool boss John Hughes has said Paolo Di Canio will use Swindon's off-field issues to inspire his team in Saturday's League One encounter.
"He's clever enough to know how to use [their problems] as a mental tool for his team," Hughes told BBC Tees.
"We have to be very guarded about what we're up against. He'll be trying to create a siege mentality."
The 48-year-old Hughes joined Pools from Livingston in November with the club nine points adrift at the foot of League One.
United remain bottom but are now just two points behind Portsmouth, with a game in hand.
Hughes said his side have their own source of inspiration when they travel to the County Ground after some encouraging results.
"The confidence and momentum we've got over the last few weeks will inspire us. We'll go down there, and give it a right good go," he said.
"We're fighting for our lives, we have our own siege mentality after everyone wrote us off as relegated.
"The togetherness we have means anyone we play will know they've been in a game."
Former defender Hughes played with Di Canio at Celtic in 1996 and has fond memories of their time together.
"He's an infectious, passionate character who wears his heart on his sleeve - everything he does is for the team," he said.
"At Celtic he loved the place. That's him, its not an act, he's just an honest guy.
"He could start a fight in an empty house but he's clever enough to know how to use that."