Everton's John Stones could rejoin Barnsley on loan - David Flitcroft
Last updated on .From the section Football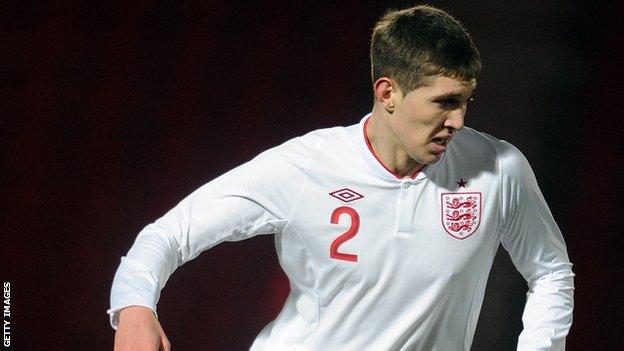 Barnsley manager David Flitcroft thinks Everton full-back John Stones could return to the club on loan this season.
"I'd say there's a chance, not a good chance," Flitcroft told BBC Radio Sheffield. "Remember, Everton paid good money for him.
"I'd like to think if a few clubs are sniffing around he'd want to come back to some unfinished business here."
He added: "John was in today saying goodbye to the lads and it would be something we'd love to explore.
"It wasn't part of the deal at the time that he'd come back here. I think David Moyes would like to assess him and see where he's at."
Before leaving on transfer deadline day, the England Under-19 international had been a regular for the Championship side this season, appearing in 22 of the club's 28 league games.
Meanwhile, Flitcroft does not expect former Reds midfielder Brian Howard to rejoin Barnsley in the coming weeks.
Howard, 30, is without a club after leaving Portsmouth earlier this month.
"I've spoken to his people and at the minute we've cooled off. At the moment I'm quite comfortable with what I've got but we could revisit it," he concluded.