Managerial league table 2012-13: Who leads the way?
Last updated on .From the section Football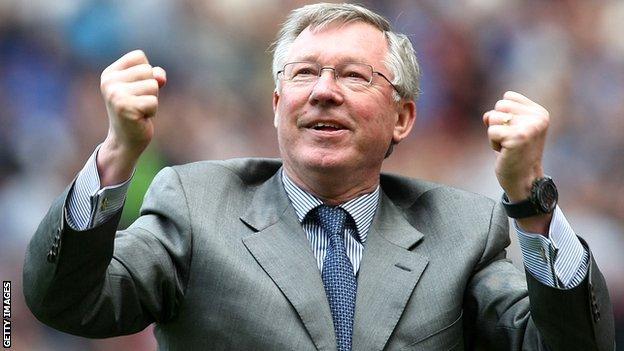 Ever wondered how your favourite football club's boss would fare in a league table of managers? Has changing the man in charge made a difference to their fortunes this season?
A study by BBC Sport has analysed the number of points returned per game from each full-time managerial spell since the start of the season.
And while the top man, Manchester United's Sir Alex Ferguson, may come as little surprise, there are some intriguing results elsewhere.
The successful reunion between Eddie Howe and Bournemouth accounts for second spot on the table, Malky Mackay, who has guided Cardiff to the top of the Championship, is next in the manager's list ahead of Manchester City's Roberto Mancini.
At the opposite end of the table, Mark Robson's spell at Barnet, where he collected just three points from 11 matches is the worst managerial spell this season and he is the only manager below Queens Park Rangers' former boss Mark Hughes in the table.
The table also allows supporters to compare how their teams' form has fluctuated, if at all, following a change in the dug-out.
Has Chelsea's decision to get rid of Roberto Di Matteo in favour of Rafael Benitez strengthened the team's push for a top-four spot? Has Ian Holloway delivered better results in charge of Blackpool or Crystal Palace? And if Ferguson has the best, who has the worst record of the season so far? The answers are all below.
MANAGERIAL TABLE 2012-13
Sir Alex Ferguson, Manchester United, 25 games, 62 points, 2.48 points per game

Eddie Howe, AFC Bournemouth, 18, 41, 2.27

Malky Mackay, Cardiff City, 29, 63, 2.17

Roberto Mancini, Manchester City, 25, 53, 2.12

David Flitcroft, Barnsley, 5, 10, 2.00

Brian Flynn, Doncaster Rovers, 3, 6, 2.00

Steve Kean, Blackburn Rovers, 7, 14, 2.00

Roberto Di Matteo, Chelsea, 12, 24, 2.00

John Ward, Bristol Rovers, 7, 14, 2.00

Micky Adams Port Vale 30, 59, 1.96

Dean Saunders, Doncaster Rovers, 26, 50, 1.92

Martin Allen, Gillingham, 29, 55,1.89

Ronnie Moore, Tranmere Rovers, 30, 56, 1.86

Steve Bruce, Hull City, 29, 53, 1.83

Nigel Pearson, Leicester City, 29, 53, 1.83

Mark Robins, Coventry City, 24, 44, 1.83

Dougie Freedman, Crystal Palace, 11, 20, 1.82

Paolo Di Canio, Swindon Town, 30, 54, 1.80

Andre Villas-Boas, Tottenham Hotspur, 25, 45, 1.80

Gianfranco Zola, Watford, 30, 52, 1.73

Uwe Rosler, Brentford, 29, 50, 1.72

Rafael Benitez, Chelsea, 13, 22, 1.69

David Moyes, Everton, 25, 42, 1.68

John Sheridan, Plymouth Argyle, 3, 5, 1.67

Gary Johnson, Yeovil Town, 29, 48, 1.65

Mick McCarthy, Ipswich Town, 17, 28, 1.65

Danny Wilson, Sheffield United, 29, 48, 1.65

Steve Evans, Rotherham United, 28, 46, 1.64

Arsene Wenger, Arsenal, 25, 41, 1.64

Mark Yates, Cheltenham Town, 30, 49, 1.63

Tony Mowbray, Middlesbrough, 29, 47, 1.62

Gareth Ainsworth, Wycombe Wanderers, 22, 35, 1.59

Paul Sturrock, Southend United, 29, 46, 1.59

Micky Mellon, Fleetwood Town, 20, 31, 1.55

Sean Dyche, Burnley, 17, 26, 1.53

Gary Smith, Stevenage, 28, 43, 1.53

Karl Robinson, MK Dons, 28, 43, 1.53

Paul Tisdale, Exeter City, 30, 46, 1.53

Gary Rowett, Burton Albion, 31, 47, 1.52

Aidy Boothroyd, Northampton Town, 30, 45, 1.50

Sean O'Driscoll, Bristol City, 4, 6, 1.50

Sean O'Driscoll, Nottingham Forest, 24, 36, 1.50

Richie Barker, Crawley Town, 28, 42, 1.50

Ian Holloway, Crystal Palace, 16, 24, 1.50

Keith Curle, Notts County, 29, 43, 1.48

Steve Davis, Crewe Alexandra, 29, 43, 1.48

Phil Parkinson, Bradford, 28, 41, 1.46

Mark Robson & Edgar Davids, Barnet, 13, 19, 1.46

Gus Poyet Brighton & Hove Albion, 29, 42, 1.45

Graham Alexander, Fleetwood Town, 9, 13, 1.44

Brendan Rodgers, Liverpool, 25, 36, 1.44

Russell Slade, Leyton Orient, 30, 43, 1.43

Nigel Clough, Derby County, 29, 41, 1.41

Dean Smith, Walsall, 31, 44, 1.41

Neil Warnock, Leeds United, 29, 41, 1.41

Paul Cook, Chesterfield, 16, 22, 1.38

Ian Holloway, Blackpool, 13, 18, 1.38

Kenny Jackett, Millwall, 30, 41, 1.37

Michael Appleton, Blackpool, 11, 15, 1.36

Michael Laudrup, Swansea City, 25, 34, 1.36

Steve Clarke, West Bromwich Albion, 25, 34, 1.36

Chris Wilder, Oxford United, 29, 39, 1.35

Michael Appleton, Blackburn Rovers, 3, 4, 1.33

Martin Ling, Torquay United, 28, 37, 1.32

Paul Cook, Accrington Stanley, 13, 17, 1.31

Jim Bentley, Morecambe, 30, 39, 1.3

Chris Powell, Charlton Athletic, 30, 39, 1.30

John Coleman, Rochdale, 28, 36, 1.29

Brian Laws, Scunthorpe United, 15, 19, 1.26

Greg Abbott, Carlisle United, 29, 36, 1.24

Lee Clark, Birmingham City, 30, 37, 1.23

Gary Mills, York City, 30, 37, 1.23

John Still, Dagenham and Redbridge, 31, 38, 1.23

Sam Allardyce, West Ham United, 25, 30, 1.20

Edgar Davids, Barnet, 6, 7, 1.20

Tony Pulis, Stoke City, 25, 30, 1.20

Graham Westley, Preston North End, 29, 35, 1.20

Dougie Freedman, Bolton Wanderers, 16, 19, 1.19

Stale Solbakken, Wolverhampton Wanderers, 26, 31, 1.19

Simon Grayson, Huddersfield Town, 28, 33, 1.18

Dave Jones, Sheffield Wednesday, 30, 35, 1.17

Martin O'Neill, Sunderland, 25, 29, 1.16

Joe Dunne, Colchester United, 22, 25, 1.13

Michael Appleton, Portsmouth, 16, 18, 1.12

Martin Jol, Fulham, 25, 28, 1.12

Chris Hughton, Norwich City, 25, 28, 1.12

Owen Coyle, Bolton Wanderers, 10, 11, 1.10

Eddie Howe, Burnley, 10, 11, 1.10

Kevin Blackwell, Bury, 21, 23, 1.09

Graham Turner, Shrewsbury Town, 31, 34, 1.09

Alan Pardew, Newcastle United, 25, 27, 1.08

Harry Redknapp, Queens Park Rangers, 12, 13, 1.08

Dean Holdsworth, Aldershot, 29, 30, 1.03

Nigel Adkins, Southampton, 22, 22, 1.00

Neil Ardley, AFC Wimbledon, 18, 18, 1.00

Keith Hill, Rochdale, 2, 2, 1.00

Andy Thorn, Coventry City, 3, 3, 1.00

Darren Ferguson, Peterborough United, 29, 27, 0.93

Brian McDermott, Reading, 25, 23, 0.92

Carl Fletcher, Plymouth Argyle, 26, 24, 0.92

John Hughes, Hartlepool United, 12, 11, 0.91

Paul Dickov, Oldham Athletic, 30, 27, 0.90

Derek McInnes, Bristol City, 26, 22, 0.85

Keith Hill, Barnsley, 25, 21, 0.84

Roberto Martinez, Wigan Athletic, 25, 21, 0.84

Paul Lambert, Aston Villa, 25, 21, 0.84

Alex McLeish, Nottingham Forest, 6, 5, 0.83

Mark McGhee, Bristol Rovers, 22, 18, 0.82

Leam Richardson, Accrington Stanley, 17, 14, 0.82

Paul Groves, AFC Bournemouth, 10, 8, 0.80

John Sheridan, Chesterfield, 3, 2, 0.67

Alan Knill, Scunthorpe United, 15, 10, 0.66

Mauricio Pochettino, Southampton, 3, 2, 0.66

Henning Berg, Blackburn Rovers, 10, 6, 0.60

Paul Jewell, Ipswich Town, 12, 7, 0.58

Terry Brown, AFC Wimbledon, 7, 4, 0.57

Gary Waddock, Wycombe Wanderers, 7, 4, 0.57

Neale Cooper, Hartlepool United, 14, 7, 0.50

Dean Saunders, Wolverhampton Wanderers, 4, 2, 0.50

John Ward, Colchester United, 8, 4, 0.50

Mark Hughes, Queens Park Rangers, 12, 4, 0.33

Mark Robson Barnet, 11, 3, 0.27