Darren Ferguson angry at Ian Holloway 'discourtesy'
Last updated on .From the section Football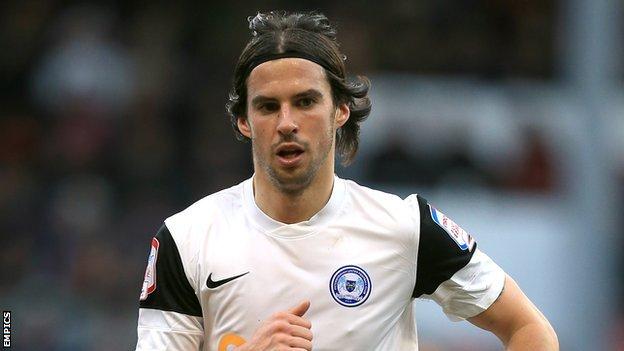 Peterborough United manager Darren Ferguson has hit out at Crystal Palace boss Ian Holloway for pursuing Posh winger George Boyd.
Ferguson told BBC Cambridgeshire that Holloway had been "discourteous".
"The one thing that's annoyed me is the Palace manager constantly ringing him [Boyd]," Ferguson said.
"Why ring him? Either buy him or don't. Or take him on loan. I'm not having that, when he's not even had the courtesy to ring me."
But Palace co-chairman Steve Parish said Holloway had not done anything wrong, instead accusing Peterborough of trying to force Boyd's sale.
"Why would Ian speak to a player we don't want anymore? It's all a bit laughable, Boro been touting player [Boyd] for ages," he said on Twitter.
"They virtually 'door stepped' Ian at a game selling the player, now they want everyone to believe he's being torn away."
But Ferguson said Holloway held double standards, adding: "It's different when it's one of his players that's up for sale, like [Wilfried] Zaha, and he's moaning about it. All of a sudden he's ringing George constantly.
"I don't want other managers ringing my players, he's a Peterborough player. There's a very, very good chance he'll be a player for another club next week, but at the moment he's a Peterborough player, simple as that."
Ferguson also claimed tests had shown Boyd's eyesight, which was cited by Nottingham Forest as the reason for calling off a transfer agreed by the clubs last week, was "fine".
"We've had a professional consultant to look at George and give us a report on his eyes, and his actual right eye had a better report than his left eye - but his right eye was the one there is supposed to be something wrong with.
"The report is there in black and white. Obviously George may have to use it again, because I imagine he will have another medical, but it shows 100% his eye is fine."
Ferguson also confirmed Peterborough need to reduce their wage bill. Boyd, who earns an estimated £10,000 a week, is the club's best-paid player.
"Everyone is fully aware of the financial situation. We've gone ahead and brought young Alex Pritchard in, we've kept [Manchester United loanee] Davide Petrucci until the end of the season on the back of assuming George had gone, so it had ramifications for us as well.
"To fall down the way it did, we've got on with it. George played against Burnley and did fine, but I'm not having managers phone him up as if he's one of his players - he's one of our players, and if people want to do business they should do it properly.
"There were talks [between Boyd and Crystal Palace], there were talks with Forest which went further, and there are other clubs interested, but we knew there would be, he's a good player."