Natasha Dowie: Liverpool Ladies to battle for FAWSL title
Last updated on .From the section Football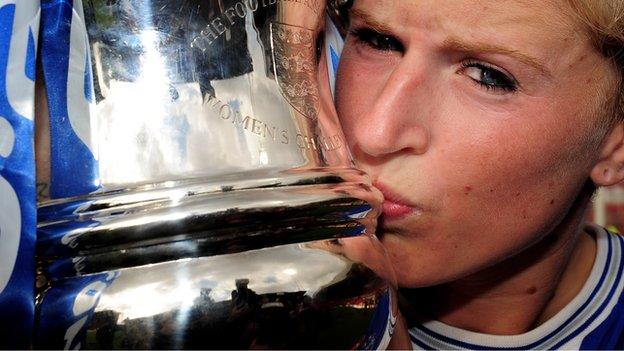 Natasha Dowie insists her move from Everton to Merseyside rivals Liverpool is not all about money.
The 24-year-old striker's transfer raised a few eyebrows after Everton finished third in the Women's Super League last season, with Liverpool rock bottom for the second year running.
But she dismisses the doubters and says her new team can battle for the title.
"If people think Liverpool are going to be bottom, then they're going to have a bit of an eye-opening," she insisted.
Dowie says she was convinced to make the move after hearing manager Matt Beard's plans for the team.
He has brought in 12 new players during the close season, including United States defender Whitney Engen, Germany midfielder Nicole Rolser and Sweden winger Louise Fors.
"We're definitely a team that can compete with if not beat Arsenal," said Dowie.
"A lot of people may have thought I'd moved because of the money and why go to the bottom of the table team, but I said to Matt that I'm not coming if we're not going to strengthen the squad."
Dowie is is one of four players to move from Everton to Liverpool, including Fara Williams.
The England international says her mind was made up even before big names such as Williams opted to make the switch.
"I'd already made the decision before Fara and I said to Matt that, regardless of whether she signs or not, I'd still want to come," said Dowie.
"Then I spoke to Fara and she was very keen as she was in a similar situation to me and needed a fresh challenge.
"We're still only quite young and have plenty of playing years left in us and maybe a new challenge will do us the world of good."
Liverpool's opening game of the season is a Continental Cup tie against Everton on Saturday 23 March at the Stobart Stadium, Widnes.