Enyeama 'feels' Africa Cup of Nations destiny
Last updated on .From the section Football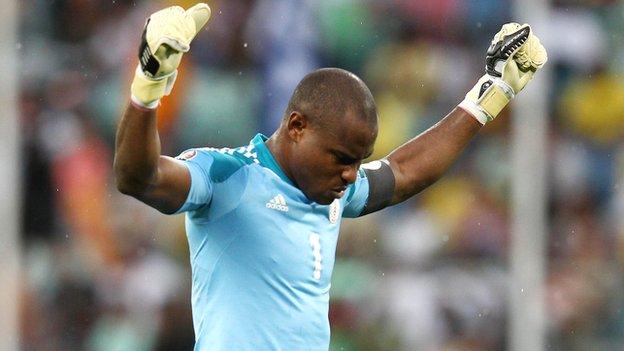 Nigeria goalkeeper Vincent Enyeama believes his side are destined to win the 2013 Africa Cup of Nations.
The Super Eagles turned on the style when thrashing Mali 4-1 on Wednesday to reach the final in Johannesburg, where they will face Burkina Faso on Sunday.
Enyeama, 30, believes the two-time champions can go all the way for the first time since triumphing in 1994.
"We feel we are going to be the winners of this championship," Nigeria's long-time number one told BBC Sport.
Led by coach Stephen Keshi, who is looking to become only the second man to win the tournament as both player and coach, Nigeria have steadily improved in South Africa.
After starting with lacklustre draws against Sunday's opponents Burkina Faso and Zambia in Group C, the Super Eagles have since earned convincing victories over Ethiopia (2-0), Ivory Coast (2-1) and Mali.
"Against Mali we wanted to put on a good show," Enyeama explained.
"At the back of our minds, we knew we were maybe 90 minutes away from the final. We knew we would have chances and we just had to convert them, while also keeping a solid backline. And that's what we did.
"This championship has eluded us for a long time but now we feel that this our moment, that this is the right time."
Midfielder John Obi Mikel was less forthcoming about his team's chances, opting to play them down, with the Chelsea star even trying to paint his side as unfancied.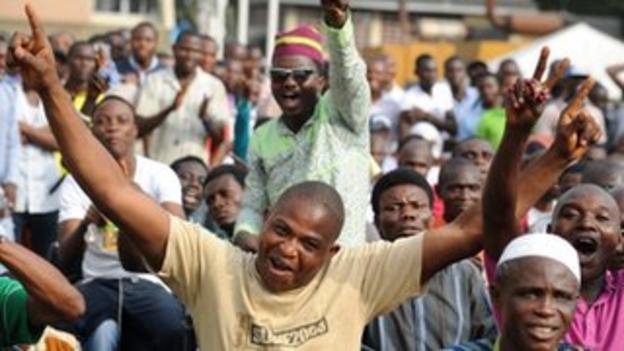 "We will go into the game the same as we have the last two games. We will be patient and keep playing the way we are playing and we go into the final still like an underdog team," he told BBC Sport.
"For us coming into this tournament, no-one gave us a chance. We want to go into the final the same way - as underdogs.
"We have to keep doing what we are doing and not get carried away. We have missed the cup, we want to bring it back home for all the Nigerians. It would be massive, but it's not going to be easy."
Mikel's club-mate Victor Moses was in sparkling form in the semi-final rout but was keen to pay tribute to the rest of the squad nonetheless.
"We have quality players but to win, you have to play as a team and that is what we have been doing," he said.
"We need to keep growing as a team and keep working hard together. We have some home-based players in our squad and they have been strong and done very well for us.
"I am delighted we are in the final."
Nigeria, who last reached the final in 2000, won the competition for the first time in 1980, before then beating Zambia in the final in 1994.