Change of boss tends to improve results, says BBC survey
Last updated on .From the section Football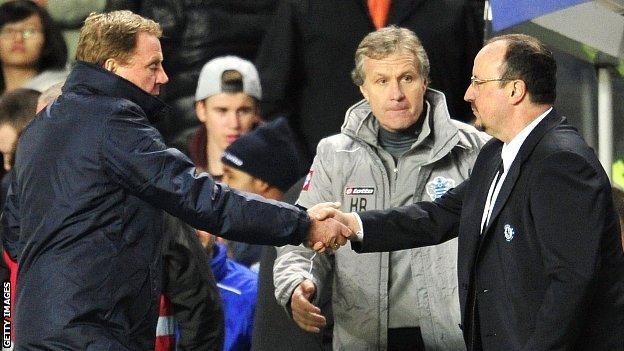 After dropping just 13 points in his side's first 25 league matches this season, Manchester United manager Sir Alex Ferguson has emerged as the most effective manager in English football's top four divisions,
However, 19 of the 29 changes in full-time managerial positions during the current campaign have been followed by a rise in the number of points per game won.
The trend is even more pronounced when a club has chosen, rather than been forced into a change of boss.
Eddie Howe's Bournemouth reign came second, while Malky Mackay came in third.
Howe returned to the Cherries and and has won 41 points from 18 matches since - a return of 2.27 points per game.
At the bottom end of the table, Mark Robson's solo spell at Barnet, before is the worst managerial spell.
Robson is the only manager below former QPR boss Mark Hughes in the table. Hughes left Loftus Road having won just 0.33 points per game this season.
The Welshman was replaced by Harry Redknapp who has returned 1.08 points per game in an apparent vindication of chairman Tony Fernandes's decision.
However, QPR's west London neighbours Chelsea have slipped off the pace at the opposite end of the Premier League table after swapping Roberto Di Matteo for Rafael Benitez in their dugout.
Di Matteo, whose failing in the Champions League may have proved his undoing, was sacked with his side four points off then-leaders Manchester City.
That gap from the top has increased to 16 points under Benitez, who has delivered 1.69 points a game - down from Di Matteo's two points a game.
Almost two thirds of instances however have followed the trend set by Redknapp rather than Benitez.
And in the 22 cases where a club has actively chosen to change managers, rather than their boss leave, on 16 occasions, or 73% of the time, a the team has then accumulated points at a faster rate.
The biggest improvement has come under Howe whose return to Bournemouth has seen the club rise from 16th to fourth.
The 35-year-old has returned 2.27 points per game - an improvement of 1.47 points per game on what was achieved by his predecessor Paul Groves.
Blackburn's decision to appoint Henning Berg in the wake of Steve Kean's departure has done the most to hinder a side's momentum with Kean's two points per game slowing to 0.6 under the Norwegian before his dismissal after 57 days in charge.
Pat Nevin has experienced a change of managers from both the dressing room and the board room.
The former Chelsea and Everton winger spent four years as Motherwell chief executive after retiring from playing.
"There often is a dead-cat bounce," he told BBC Sport.
"If you change it around and bring in someone to have a fresh look around that can have an immediate effect.
"In the simplest terms, for an individual player all bets are off again. You start from scratch with a new manager and you need to redouble your efforts to impress him.
"Their spirits are immediately lifted and overall it is a psychological positive.
"I think I was a hell of a lot more reticent that your average chief executive - I only made one change [sacking Billy Davies in 2001] in my four years in charge.
"Every club is different and has a different view, but it is incumbent on you sometimes to take a decision that may not be very popular.
"You may not even really want to take it, but if you truly believe it is for the good of the club long term then you have to make that decision."
The , featuring every club in England's top four divisions, is available on a separate page of the BBC Sport website.
2012-13 Managerial League Table top ten

1. Sir Alex Ferguson

Manchester United

2.48 points per game

2. Eddie Howe

Bournemouth

2.27

3. Malky Mackay

Cardiff

2.17

4. Roberto Mancini

Manchester City

2.12

5. David Flitcroft

Barnsley

2.00

6. Brian Flynn

Doncaster

2.00

7. Steve Kean

Blackburn

2.00

8. Roberto di Matteo

Chelsea

2.00

9. John Ward

Bristol Rovers

2.00

10. Micky Adams

Port Vale

1.96
2012-13 Managerial League Table bottom ten

125. Mark Robson

Barnet

0.27 points per game

124. Mark Hughes

Queens Park Rangers

0.33

123. John Ward

Colchester

0.50

122. Neale Cooper

Hartlepool

0.50

121. Dean Saunders

Wolves

0.50

120. Terry Brown

AFC Wimbledon

0.57

119. Gary Waddock

Wycombe

0.57

118. Paul Jewell

Ipswich

0.58

117. Henning Berg

Blackburn

0.60

116. Mauricio Pochettino

Southampton

0.66
Figures correct as of Thursday, 7 February.