Eddie Howe: Portsmouth spell shaped my managerial career
Last updated on .From the section Football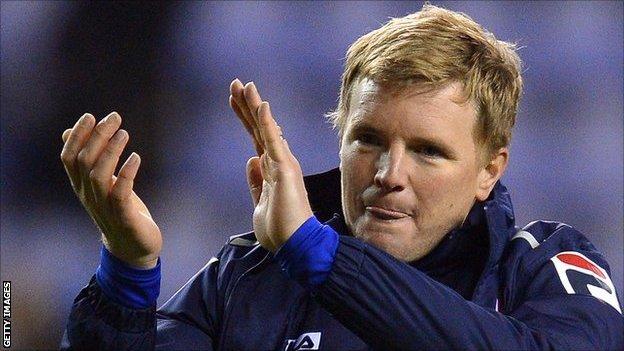 Bournemouth manager Eddie Howe says his injury-plagued spell at Portsmouth helped shape his managerial career.
Howe played just twice for Pompey because of injury but says the time spent on the sidelines helped him learn from then manager Harry Redknapp.
"It was a shame I couldn't contribute on the pitch," Howe told BBC Radio Solent. "But watching from behind the scenes was a valuable learning tool."
The Cherries take on Pompey at the Goldsands Stadium on Saturday.
Howe admits to looking back on his time at Fratton Park with sadness and regret but says it proved to be a valuable learning experience for him.
"It was a really disappointing period for me personally," continued the 35-year-old.
"When I joined Portsmouth I felt it was the right time for me to move and progress my career and unfortunately it just never got going.
"I played two games and that says it all. Harry showed a lot of faith in me and I never produced anything for them and for that I will always be sorry.
"I was injured on my debut and unfortunately for me I had to watch them go on that incredible run and win promotion to the Premier League.
"But it was great for the football club at the time and Portsmouth were on a great high and Harry did a magnificent job.
"Whenever you are watching people and seeing them be successful it can only help your learning and development.
"I certainly looked at Harry and the squad of players he put together and how they worked for each other."
Howe's Bournemouth are flying high in League One and are just four points off the automatic promotion places. Pompey, by contrast, are in administration and are facing relegation for the second year running.
The Cherries boss admits to being saddened by their current plight and paid tribute to the fans and caretaker-manager Guy Whittingham for sticking with the club.
"They are a special group of fans, as they have shown by how they have stuck with their club during this period," added the former defender.
"It's hard for any club when you are faced with the position and predicament that they are in.
"We have been there ourselves and I will never forget that period of time for this football club, so we are probably one of the best clubs to relate to how they're feeling and the struggles they are going through.
"Throughout this period they have kept their dignity and they've worked incredibly hard to keep things together, and we know going into any game that Portsmouth are capable of beating us."