Mario Balotelli meets with controversial AC Milan official
Last updated on .From the section Football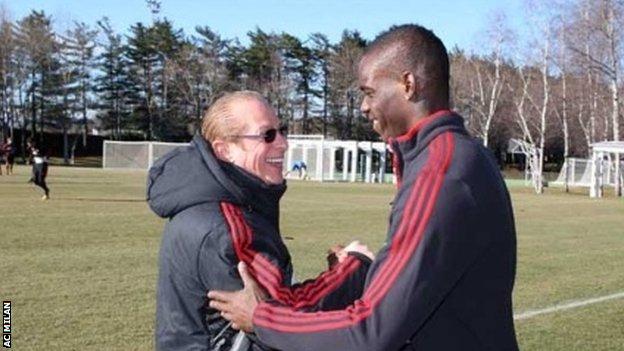 Mario Balotelli has met with Paolo Berlusconi after the AC Milan vice-president was accused of using racist language to describe the striker.
Italian media said Berlusconi made the comments at a political rally on Sunday as he invited the audience to watch the £19m buy from Manchester City play.
On Thursday, a picture was posted on the club's website showing the pair shaking hands and smiling.
Neither Balotelli, nor Berlusconi have commented on the matter.
A statement was published with the picture which read: "Today [Thursday] the vice-president of AC Milan, Paolo Berlusconi, had a brief conversation with Mario Balotelli while helping out at Milanello [Milan's training ground]."
The original remarks were filmed and posted on the La Repubblica website, prompting criticism of Berlusconi, brother of club president Silvio.
During the speech in Monza at the weekend, Berlusconi is understood to have used a word from a Milanese dialect.
The literal translation is: "Let's go and watch the family's little nigger," but the phrase is thought to better translate to: "Let's go and watch the little black boy of the family."
Berlusconi is said to have added: "He's a wild one. All the young ladies are invited as well - you can even have a chance to meet the president."
Balotelli, 22, joined City from Inter Milan for £24m in 2010 and scored 30 goals in 80 appearances for the club.
He signed for AC Milan on transfer deadline day, agreeing a four-year deal.
The Italy international was immediately in the headlines, scoring twice on his debut against Udinese, including the winner with the last kick of the game.
AC Milan have recently taken a stand against racism and last month the team left the pitch during a friendly after racist chants were aimed at Ghana international midfielder Kevin-Prince Boateng.
Meanwhile, the Serie A side have denied reports Balotelli was involved in an argument with police after parking illegally.
"Today [Thursday] at Milan airport local police carried out a normal check on the car being used by Mario Balotelli," a statement said.
"Contrary to what has been reported by some sources, there was no argument between the parties and at the end of the check Mario Balotelli went to Milanello as usual for training."
Reports earlier stated Balotelli was told to move his car by traffic police when he stopped in a no-parking zone, but when he complied, he went into another prohibited area.
Balotelli was also fined by traffic police at the scene as he did not have insurance documents with him.