Rio Ferdinand questions irritate England manager Roy Hodgson
Last updated on .From the section Football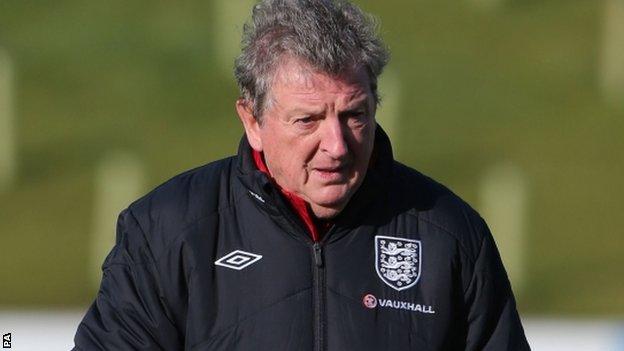 England coach Roy Hodgson has refused to comment on a possible England return for Rio Ferdinand.
"It seems to me all I ever do is answer questions about Rio," Hodgson said.
"I am not prepared, every time we play, to keep revisiting something which I have revisited at every single press conference for the last 10 months."
The 65-year-old added: "I don't know how many more times I have to say it. You can write what you want to write.
"We have beaten Brazil [2-1 win on Wednesday]. I am not prepared to constantly talk about people who aren't here and weren't selected in the first place."
Hodgson discussed Ferdinand's future with London Underground passengers last October, which was reported in the media.
He denied stating that the former England captain's international career was over.
Ferdinand has won 81 caps, but has not played an international match since the Euro 2012 qualifier against Switzerland at Wembley.
He was the highest-profile omission from England's Euro 2012 squad, with Hodgson saying the move was a "footballing decision".
Manchester United's Chris Smalling and Chelsea's Gary Cahill, whose mistake led to Fred's equaliser on Wednesday, were centre-back partners for the victory over the 2014 World Cup hosts.
Hodgson launched into a defence of the pair when asked about what qualities are required in a modern-day defender.
"You are being unfair to the two of them to suggest they can't [bring the ball out of defence]," he said.
"Smalling can do that. He is not lacking in ability on the ball. Neither is Gary Cahill."