Leeds United: Neil Warnock plays down job uncertainty
Last updated on .From the section Football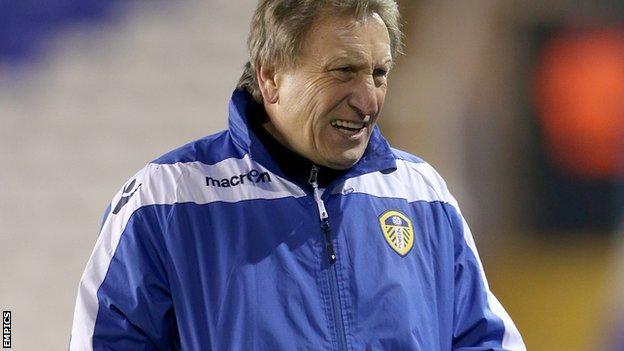 Leeds United supporters have called for the club's new owners to clarify the position of manager Neil Warnock, whose contract runs out in May.
Supporters Trust secretary Paul Keat said the situation was leading to uncertainty and unrest.
Warnock confirmed no discussions regarding his future have taken place.
He told BBC Radio Leeds: "My future will be decided on the field anyhow. I wouldn't be here if I didn't think we could still get promotion."
Leeds were taken over by Dubai-based private equity firm GFH Capital in December, although previous owner Ken Bates remains chairman and is due to become president at the end of the current campaign.
Warnock's side are currently 12th in the Championship, six points off the play-off places with 17 games to play.
The 64-year-old said he just wanted to concentrate on trying to achieve promotion and was unconcerned contract talks were not taking place.
"It's a bit more difficult because we're looking at the play-offs, but until it's mathematically impossible that will be my aim.
"I still think there's an opportunity for us to have a late spurt, because I think we've got better now, these last few weeks we've got more consistent," he said.
"I'm probably a bit disappointed we didn't bring another one [new signing] in during the transfer window, but we're still looking and it's not beyond us. Now we have to do the hard things."
Warnock believes he still has the support of the majority of Leeds fans.
"Yes, we had the Barnsley debacle and everything, [Warnock was abused by Leeds supporters after United's performance in the 2-0 defeat] but you have to be careful what you wish for and the supporters know they get what they see with me really, there isn't any fudging of the situation," he added.
"I wish we'd started the season with this squad, but we didn't, we only have 17 games to go and we just have to get as many points as we can to give ourselves a chance of going up."