Pompey Supporters' Trust confident of Portsmouth takeover
Last updated on .From the section Football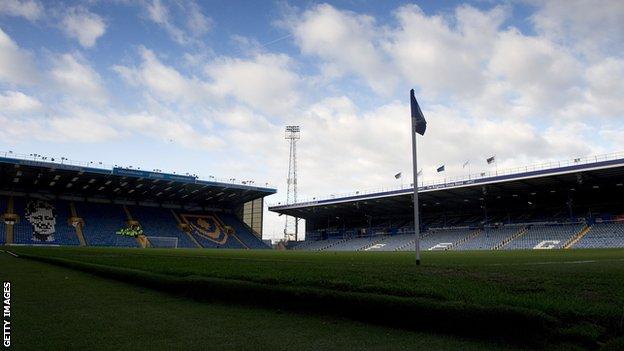 The Pompey Supporters' Trust says it is confident of buying Portsmouth after the Football League said it will not consider a new offer from Keith Harris.
It leaves the PST in pole position to take over the administration-hit club.
"The Football League has come to a sensible decision," said PST chairman Ashley Brown in a statement.
"Our bid is ready to go and we will be meeting with the administrator PKF shortly to prepare the timetable to complete our takeover."
Pompey have been in administration since February 2012 and are said to be around £61m in debt.
The PST have been approved by the Football League as well as the club's creditors.
But their takeover is conditional on them taking control of the club's Fratton Park stadium.
It is controlled by the club's former owner Balram Chainrai, who is owed £12m by Pompey and holds the stadium as security via a fixed charge.
The PST had offered Chainrai £2.75m for the ground but the Hong Kong businessman has so far refused to sell.
Following Thursday's revelation of a rival bid, the PST themselves released a statement saying they had increased their offer for Fratton Park to £3m - " to make their package even more attractive".
PKF are attempting to force the sale of Fratton Park through the High Court, as well as seek an independent valuation, although the hearing has been adjourned several times. The latest hearing is set for 14 February.
"We have always been clear we are the best solution for the creditors and the best solution for the club and this has now been recognised across the board," added Brown.
"Our bid will put capital into Portsmouth FC and will make a clean break from the past."
Brown added: "Mr Chainrai has always made it clear he does not want to see Pompey liquidated.
"We are sure he is genuine in his sentiment and I would urge him to work with us to ensure the club will stand the best chance of success in the future."