Stephen Kelly 'disgusted' by Giovanni Trapattoni comments
Last updated on .From the section Football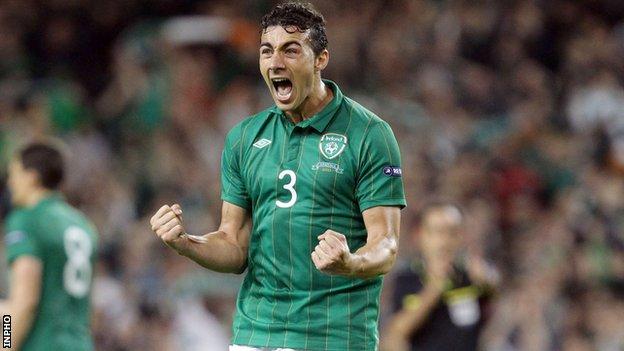 Reading's Stephen Kelly has angrily rejected claims by Republic of Ireland boss Giovanni Trapattoni that he is not committed to the international squad.
Trapattoni said on Thursday that the defender had indicated that he wouldn't make himself available unless given assurances that he would play.
However, Kelly made a trenchant denial of Trapattoni's comments on Friday.
"I am simply shocked and disgusted with the untrue and unwarranted comments made by Giovanni Trapattoni," he said.
"These hurtful and untrue comments have caused distress and upset to myself and my family who have supported me throughout my career and know the level of commitment and passion I have always shown in representing my country.
"I have proudly represented Ireland from the age of 16 and I have never shown anything other than 100% commitment to my country and my team.
"I cannot and will not tolerate attempts to defame my commitment and loyalty to Ireland," added Kelly, 29, who has won 32 caps.
On Thursday, Trapattoni strongly criticised Kelly in a press conference in Dublin and appeared to suggest that he would not consider the Reading full-back for future squads.
"You know what happened with Kelly? (He said) 'I play or I go home'. So go home," said Trapattoni.
"Paul Green? I called him late at night and he came straight away. It's the way Irish players need to be. They need to be happy to play for their country.
"They wouldn't do it at their clubs. Why? Why only here? Either we have a team or a squad. Anyway, we have others, like Seamus Coleman."
Trapattoni's comments clearly infuriated Kelly, who has captained the Irish during the Italian's reign, and the defender responded in a lengthy statement on Friday.
"Representing Ireland at senior international level has given me some of my proudest moments in my professional career and for me captaining my country will always be my greatest achievement.
"It saddens me greatly that I should have to defend my good character and reputation in a profession I love, however, I refuse to allow anyone to question my passion for representing Ireland.
"I will continue as always to proudly be available for my country."
Kelly was reported to have had a row with Republic assistant boss Marco Tardelli prior to the World Cup qualifier in the Faroe Islands in October.