Real Madrid v Manchester United: The match the world wants to see
Last updated on .From the section Football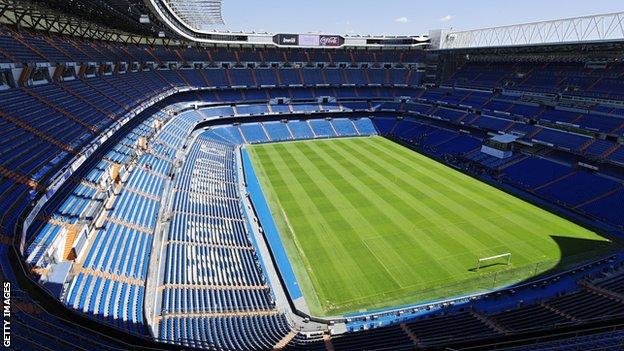 Fashions and fortunes may fluctuate, but whenever these football clubs meet the world stops to watch.
Real Madrid versus Manchester United; Jose Mourinho versus Sir Alex Ferguson; Cristiano Ronaldo versus Wayne Rooney: it is a Champions League encounter that has captured the imagination in every corner of the planet. "This is the match the world wants to see," Mourinho said recently. "The only shame is that it is not the final."
Myriad subplots threaten to obscure the bigger picture but it must not be forgotten that these are two clubs longing to lift another European Cup, battling to emerge from the shadow in which the brilliance of Barcelona has placed them in recent times.
Ferguson has long said that United's return of three European Cup trophies is below the expectations of a club of their size. And while Real remain the benchmark with nine - three of which were won during a five-year period between 1998 and 2002 - it has been a decade since Los Merengues lifted the trophy they once considered their own.
This meeting of two of the grandest institutions in sport will be an epic encounter that may struggle to live up to the hype, but they have said that before.
Form
Manchester United have the edge. Sunday's 2-0 win over Everton extended their gap at the top of the Premier League to 12 points with as many games remaining and took their unbeaten league run to 13 games, the longest current unbeaten streak across Europe's top five domestic leagues.
In contrast, Real have problems. Mourinho led Real to the La Liga title last season, but Barcelona have swept all before them this time around, moving 16 points clear of their great rivals. The question now is whether Mourinho can rouse Real out of their malaise before it is too late. Advantage United.
Depth
United's success this season has been built around the goal threat of Rooney and Robin van Persie and the enduring spirit for which Ferguson's teams are renowned. But despite their domestic dominance, they have shown defensive vulnerability and there is a sense that perhaps they are not as strong as they were in reaching the Champions League finals of 2008, 2009 and 2011. Goalkeeper Edwin van der Sar has retired and the axis of Rio Ferdinand and Nemanja Vidic are perhaps diminished by age and injury.
For all their problems, Real have a formidable squad. The additions of Ronaldo, Xabi Alonso, Karim Benzema and Mesut Ozil took the club from a team which could not get beyond the last 16 in the Champions League to a team which has reached the semi-finals in the past two campaigns under Mourinho. Advantage Real.
Tactics
Mourinho's default formation has been a 4-2-3-1, but there is a certain degree of flexibility within that to allow Real either to seize the initiative or to sit back and hit their opponents on the counter attack. Benzema is likely to start as the lone striker, with Ozil in behind as a number 10 and Ronaldo coming off the flanks to wreak havoc. Xabi Alonso is Real's midfield metronome - he will set the tempo and pull the strings.
Ferguson has always struggled to get the better of Mourinho tactically. In the first leg at the Bernabeu, the Scot must weigh up the need to score an away goal with defensive caution. Van Persie may be deployed as a lone striker with Rooney in behind or coming in from out wide. Michael Carrick will be the key player in midfield. Advantage Real.
Key battles
Madrid are about more than just Ronaldo, but having scored six goals in the Champions League already this season he remains their most potent attacking threat. This is his first meeting with United since his controversial £80m departure from Old Trafford in 2009.
With the Portuguese likely to start on the left flank, Rafael will be tasked with stopping him but his habit of cutting inside, and erupting through the centre of a defence means the United defence and midfield will need to accept collective responsibility, an area they have struggled with this season.
United have relied heavily on the goals of Van Persie but his influence in the Bernabeu may depend on Carrick's battle with Alonso in midfield. The Englishman has been one of United's outstanding performers this season, but Alonso remains a tremendous performer and a fierce competitor. All square.
Managers
There is a surprising warmth between the men, with Mourinho having always shown deference to Ferguson. But in head-to-head meetings the Portuguese leads the way, having lost to United only twice in 14 encounters.
The men will share a joke, a text or two and, of course, a glass of fine wine but for all the bonhomie, Real are a club for which Ferguson has frequently expressed disdain. "Do you think I would get into a contract with that mob?" and "I wouldn't sell them a virus" to name but two of his quotes on the subject.
Mourinho's record against United must give Real the edge. Advantage Real.
Brand
Recent market research suggests these are also the two best supported football clubs on Earth. Their sheer stature reaches far beyond Madrid and Manchester, to Manila, Mumbai, Melbourne and Miami with Barcelona the only genuine threat to their global hegemony, splitting them in the rankings of the world's richest clubs.
Real topped Deloitte's latest football money league and became the first sports club to surpass the €500m (£423m) revenue threshold in a single year.
"Real have led the way in the phenomenal rate of revenue growth," Dan Jones, partner in the Sports Business Group at Deloitte, said. "United continue to successfully leverage their global brand. The new world-record seven-year shirt sponsorship deal with General Motors will double the revenues the club receives from its shirt partner in the first season of the new deal in 2014-15 and help them push the two Spanish clubs above them for a top-two ranking."
In another 2012 study, Forbes magazine ranked United as the most valuable club in any sport, with a value of £1.43bn. Real Madrid were second with a £1.19bn valuation. The New York Yankees and Dallas Cowboys were joint third. Make no mistake - this is the clash of the titans. All square
Conclusion
Real Madrid edge this comparison but United are out to prove a point, with English clubs facing the possibility of not being involved in the quarter-finals for the first time since 1995-96.
Ferguson will not underestimate the task at hand but knows that if Van Persie is fit, he will always have a chance. Advantage Real. Just.