Sir Alex Ferguson unhappy with Manchester United TV schedule
Last updated on .From the section Football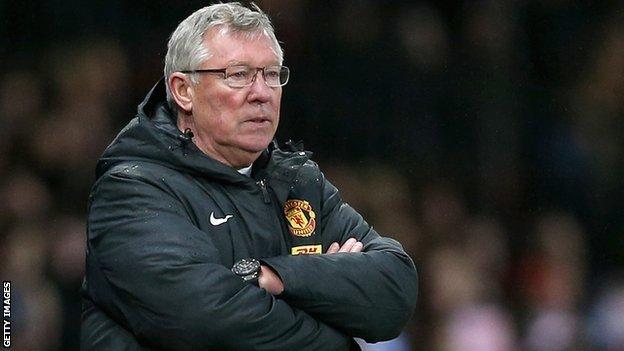 Manchester United manager Sir Alex Ferguson claims the television fixture schedule is harming Premier League sides' chances of success in Europe.
"The Premier League agree the contract with TV and they are in control. But they are not giving our teams a chance to be successful in Europe," he said.
Madrid play their La Liga game with Seville on Saturday.
"It is ridiculous to think we are playing on Sunday and Real Madrid have an extra day's rest," added Ferguson, 71.
"It is not fair. France play on Friday nights. Why? Possibly we (England) get more money out of television I don't know.
"Other countries make sacrifices for their top teams in Europe. What can you do? Not turn up? I would like to do that by the way."
United's game with Everton was initially chosen for live TV screening by Sky and there was an option for the game to be played on Saturday lunchtime if the Madrid fixture had been on a Tuesday.
"It is pointless complaining about these things all the time," said Ferguson.
"How many times have I complained about it? You've heard my complaints. Do they listen?"