Real-United tie is one 'the world wants' - Jose Mourinho
Last updated on .From the section Football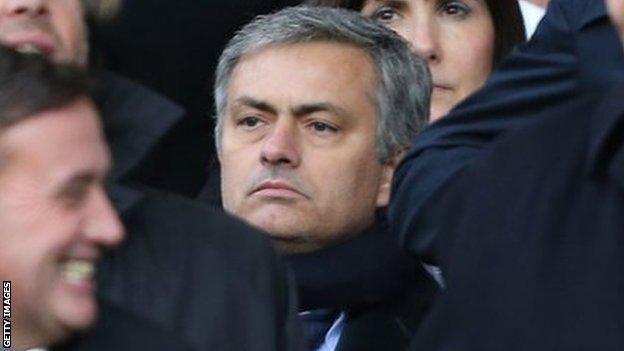 Real Madrid manager Jose Mourinho says Wednesday's Champions League clash with Manchester United is the match "the world is waiting for".
Madrid warmed up for the last-16 tie in style, by beating Sevilla 4-1 thanks to a hat-trick from Cristiano Ronaldo.
"People think we are under pressure because a big team will be out," said Mourinho, who was at Old Trafford for United's win over Everton on Sunday.
"But the people are not waiting for any other game."
The last-16 first-leg tie at the Bernabeu will be the first time Ronaldo has faced his former club since making a record £80m move to Spain in 2009.
Ronaldo's hat-trick on Saturday - his 20th for Real - began with a left-footed strike following a mesmerising step-over.
After pouncing on a mistake from visiting defender Federico Fazio to make it 3-0, he then launched a rapid counter-attack with a 50-yard run that ended with him tapping in a Gonzalo Higuain pass from close range.
Ronaldo's evening ended early with a standing ovation from the crowd, leaving him fresh for the game against a Manchester United side in good form and on the back of a win over Everton that put them 12 points clear at the top of the Premier League.
Mourinho visited Ferguson after the game but maintains that while their friendship is as strong as ever, they are both desperate to win their Champions League showdown.
"I feel privileged about that because he is such an important person in the world of football and, more importantly, he is good person," said Mourinho.
"I have always had a fantastic relationship with him and I am proud of it. We have had so many matches between us which started with Porto. We had some with Chelsea, Inter and now Real. Some I had won, some I have lost, others I have drawn.
"Of course, I want to win and he wants to win, but I believe the loser will have a little bit of space to feel a little bit happy because of the friendship.
"But make no mistake, I want to win."