Champions League: Juventus find form ahead of Celtic visit

By Liam McLeod
Football Commentator, BBC Scotland
Last updated on .From the section Football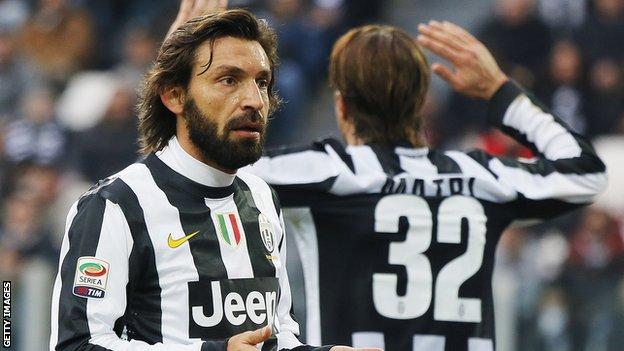 Familiarity has been a trait laced through this season's Champions League journey for Celtic.
An exhilarating campaign has seen a Henrik Larsson pilgrimage to Helsingborg in the qualifiers and rematches with old foes in the group stage.
It was therefore no surprise when Juventus were pulled out of the hat for the last 16 tie, setting up a third visit to the east end of Glasgow for the "Bianconeri".
The 2001 clashes between the teams are among the most memorable of European matches in a treasure trove of recent classics.
More than 11 years on, Celtic fans still bristle at the mention of the name Nicola Amoruso.
He was the man who won Juve a dubious late penalty when he crumbled under a challenge from Joos Valgaeren in the final minute of a 3-2 loss.
German referee Hellmut Krug pointed to the spot with Amoruso slotting home himself, much to the disgust of the then-Celtic boss Martin O'Neill who was apoplectic in his post-match interview and the current Parkhead management team of Neil Lennon and Johan Mjallby who were on the pitch that night in Turin.
The 4-3 Chris Sutton-Lubomir Moravcik-inspired victory in the group stage return was stirring but ultimately futile.
The good news for Celtic is Messers Krug and Amoruso have long since retired.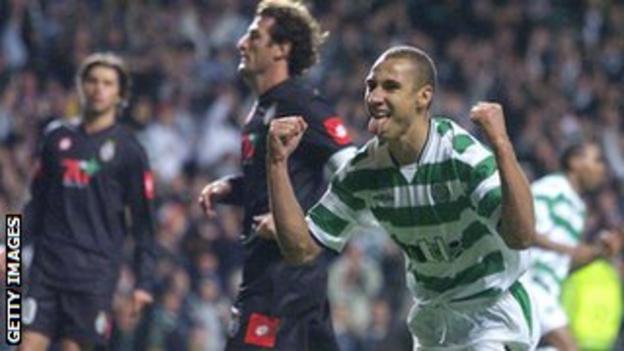 The bad news is the "Vecchia Signora" have recovered from a recent wobble.
Their most recent victims were Fiorentina who visited Juve's shiny new stadium on Saturday evening.
The comfortable 2-0 victory moved them five points clear of Napoli at the top of Serie A as they continue their title defence.
Montenegrin Mirko Vucinic opened the scoring with a thunderous shot and strike partner Alessandro Matri added the second before the break, his fifth in five games.
Andrea Pirlo - who has faced the Scottish Premier League leaders before with AC Milan - was imperious again.
The veteran Italy international, who dazzled at Euro 2012, continues to pull the Juve strings following his free agent move in 2011 after a glittering decade with the Rossoneri.
Celtic cannot allow him any space, with one flash of the 33-year-old's boot able to unlock the sturdiest of rearguards.
While he had a quiet second half in particular, Gianluigi Buffon remains an awesome presence in goal, just as he was during that controversial Turin tie in September 2001.
Arturo Vidal provides the industry to compliment Pirlo's craft and the Chilean has been scoring and making goals all season.
Manager Antonio Conte likes to play a three-man defence with two wing-backs, a formation Lennon has experimented with in recent weeks, and that is probably where the biggest selection question mark arises.
Against Fiorentina, it was Andrea Barzagli, Luca Marrone and Federico Peluso along the back with Giorgio Chiellini still out injured.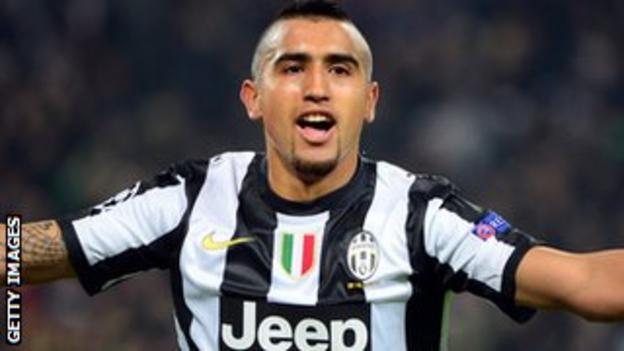 Another Italian international Leonardo Bonucci will return from a domestic suspension on Tuesday.
Joining Pirlo and Vidal in the middle was the classy Claudio Marchisio, back after a month out.
Vucinic was withdrawn because of a knee injury, but the substitution looked more precautionary.
A big miss for Juve recently has been galloping wing-back Kwadwo Asamoah who has been on Africa Cup of Nations duty with Ghana and, like Celtic's Efe Ambrose, will race to Scotland ahead of the tie.
New loan signing Nicolas Anelka was on the bench but his signing is a stop-gap ahead of the summer arrival of Fernando Llorente from Athletic Bilbao.
Watching the win over Fiorentina was club legend Pavel Nedved, who featured during those 2001 matches and is now a Juventus director.
"I'm fully aware of the atmosphere that awaits us in Glasgow because I've been there and experienced it first hand," he told the club website.
"We'll be stepping into a lion's den and I don't think the team will need geeing up. We'll have to tough it out, but we have shown that we're ready."
Conte's men came through the group stage undefeated with three wins and three draws, including a 3-0 home hammering of holders Chelsea.
Juventus were unbeaten domestically last season with the club fully rehabilitated following the "calciopoli" match fixing scandal of six years ago that saw them stripped of two titles and relegated to Serie B.
Celtic's task is huge, but in Europe this season, that has been a familiar refrain.