Manchester United provide focus for Jose Mourinho and Real Madrid
By Andy Brassell
European football expert
Last updated on .From the section Football251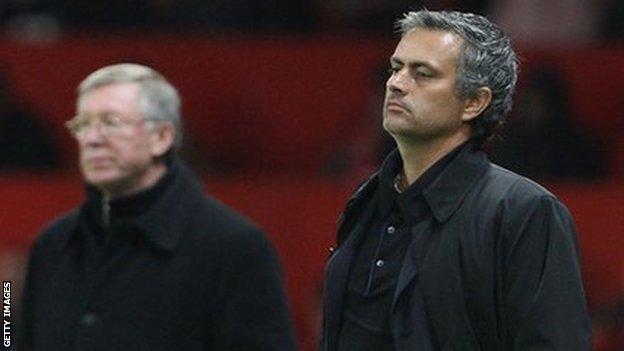 - and even Cristiano Ronaldo scoring his 20th hat-trick since arriving in Spain - has quickly become a mere footnote in their season. The challenge to come is what everybody at the club has their gaze fixed on.
"Cristiano lays down the gauntlet to Manchester (United)," said Sunday's edition of Marca, while As proclaimed that "Superman is ready to confront Manchester".
The previous weekend's defeat to Granada had extended the gap between El Real and leaders Barcelona to a whopping 16 points. On Wednesday night, when United arrive for a titanic Champions League clash, that chasm will momentarily cease to matter.
Since before Christmas, there has been an acceptance that La Liga will return to Barcelona after a year's absence. No matter, for if Madrid finally capture la decima - the 10th European Cup - it will all be worth it.
Former United and Real Madrid striker Ruud van Nistelrooy told Marca on Friday that "(Sir Alex) Ferguson and (Jose) Mourinho want it just as much as each other, but the obsession is bigger among Madrid and their fans".
Whereas succeeding in the Champions League is the ultimate accolade for all of Europe's biggest clubs, it is something more in Madrid. It's what gives the club its international cache and its very identity.
The fate of this European campaign will define Mourinho's legacy in the Spanish capital. Winning the Champions League again was what he was specifically brought in to do.
His appointment was president Florentino Perez's admission that Madrid couldn't be as sexy as Barca, but would do whatever it took to become champions of Europe again. Perez knew that, in many ways, what Mourinho represents is roundly opposed to the club's culture.
Since the 2010 arrival of the Portuguese, there have been frequent complaints about the team's style and Mourinho's extremely combative approach to media relations. The only way his tenure will be seen as an unqualified success will be if El Real win at Wembley on 25 May.
What has perturbed Mourinho more than anything on the quest to his ultimate goal is how his team have changed since wresting La Liga back from Barcelona. He has bemoaned their loss of "intensity" on numerous occasions this season.
It's almost as if some of the squad were sated by vanquishing Barca in the last campaign. It is an attitude that Mourinho finds absolutely unfathomable.
In this respect, drawing United is a real stroke of luck. It provides sharp focus in a domestic season that has seen Madrid meander behind Barca's brilliance.
"Every match is special," said the returning Pepe after the Sevilla match, "but Wednesday's will be even more so. I've worked very hard to be ready for United."
Simply everything is aimed towards being ready for it. Alvaro Arbeloa, Luka Modric and Gonzalo Higuain will all be suspended for next week's match against Rayo Vallecano after cards received on Saturday night. With the second leg of the Copa del Rey semi-final against Barca a week before the return at Old Trafford, a rest may be timely.
There is the sense that perhaps Mourinho has been up to his old tricks again. Arbeloa and Modric both received yellow cards with Madrid already 4-0 up, with the former Liverpool defender's coming moments after he was spotted receiving instructions from his boss.
Modric is not expected to start Wednesday's match at the Bernabeu. The former Tottenham midfielder is not yet fully established, having been shifted between three different positions since his August arrival.
The roles of Sami Khedira and Mesut Ozil as unused substitutes against Sevilla showed just who Mourinho will rely on come Wednesday. The German pair had been in excellent form in their country's win in France earlier in the week.
Sevilla's limited resistance also allowed Madrid to withdraw Ronaldo and Karim Benzema before the match entered its closing stages. The Frenchman, who chose Madrid ahead of United in 2009, will be a key figure in this Champions League tie.
It's not just that Benzema is in his element in the Champions League, having scored 29 goals in 38 starts in the competition - comparing favourably with Gonzalo Higuaín's seven in 26 starts.
What's even more important is that Benzema makes Ronaldo play; linking and creating as well as scoring. Everything is geared towards making Ronaldo flourish, as it should be.
Mourinho's assistant Aitor Karanka said after the match against Sevilla that playing Benzema and Higuaín together again was "an option". It would be surprising to see this on Wednesday, but the possibility confirms El Real's intention to take the bull by the horns.
Either way, Madrid will attack this first leg with some venom. The adrenaline provided by a full and noisy Bernabeu means United are likely to have to weather an early storm.
Mourinho is unlikely to be able to complain about a lack of intensity in this tie. If Real Madrid succeed, all this season's shortcomings and dressing-room spats will be forgotten.