Vicente: Brighton & Hove Albion playmaker eyes full fitness
Last updated on .From the section Football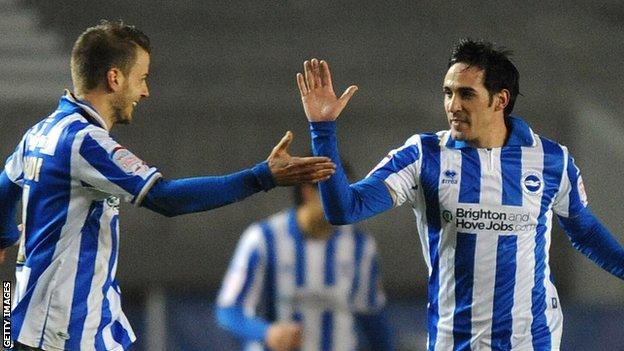 Brighton playmaker Vicente says he will be able to return to full fitness once he is given more playing time.
He told BBC Sussex: "What I need [to get fully fit] is to play regularly; not just 10 minutes, 20 minutes or half and hour.
"You get fit if you are playing more consistently or more regularly. It is the decision of the coach [Gus Poyet]."
Vicente has made four appearances for the Seagulls since returning from a five-month lay-off in the 2-2 draw at Birmingham last month.
Since then, he started the 1-1 draw at Blackburn but been used as a substitute in Albion's last two games.
He added: "I am ready to play from the start but if I have to be on the bench again, that's what it is.
"I have trained very hard during one month I have been with the team.
"I need to train harder and harder every day."
The former Spain international is grateful for the support he received during his times on the sidelines.
"I was injured for about five months and I really didn't know exactly what I had," he said.
"I couldn't train and a couldn't play but the support of my teammates and, above all, my family helped me a lot.
"There are five of us from Spain while Leo [Ulloa] is from Argentina and we meet up regularly and help each other.
"It's not only the Spanish speakers; we are a very good group and all the players have helped me."
Vicente believes the win over Hull, which put the Seagulls two points off the Championship play-off places, could prove to be a turning point.
"We had some bad results with three away games that we didn't win," he said.
"With this win I think we will gain confidence and the goal is to reach to the play-offs."