Jason Brown finds tough conditions in search for new club
Last updated on .From the section Football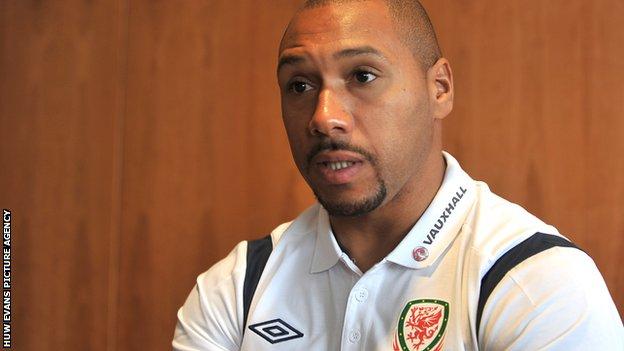 Wales goalkeeper Jason Brown admits he might struggle to find a new club because of the financial pressure on football.
Brown, 30, had his contract terminated by mutual consent at Aberdeen in January and has been training on his own "in the park" ever since.
"I obviously want to get a club but I'm a realist," he said. "The recession has kicked in in football.
"It's difficult. There are thousands of out there who are unattached."
Brown said a difference of opinion between him and manager Craig Brown resulted in his decision to leave Aberdeen, where he had made two appearances this season.
While trying to keep fit while searching for a club, he received a timely and unexpected boost last week when he was called up to the Wales squad for the friendly with Austria in Swansea after Lewis Price withdrew.
"It was quite a surprise in all honesty," said Brown, who can join any club as a free agent despite the end of the transfer window.
"Not many players that are unattached get called up.
"I look at it as a great honour to play for my country but to get called up when you're unattached shows the belief [Wales manager] Chris Coleman has in me.
"They are trying to help me to get somewhere."
Brown, who has won three Wales caps, made a total of 28 appearances for Aberdeen after joining in July 2011.
Before his move to Scotland, he had played just 25 times for three clubs since leaving Gillingham in 2006.
"I've not played many games over the last few years and I know it's not going to be easy to walk into a club so I have to be patient," he said.
"I can't start panicking because I don't want my family to panic. I believe in my agents, they've been good to me up until now. I'm just waiting for that one opportunity to come up.
"I don't want ill on any goalkeeper but it might take an injury for me to get my foot in the door."