Torquay United worry over Martin Ling health problems
Last updated on .From the section Football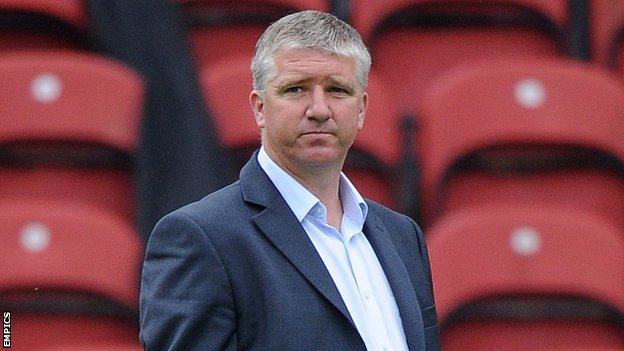 Torquay chairman Simon Baker says the club still has no idea when manager Martin Ling will be well enough to resume his duties.
Ling missed a fourth successive match on Tuesday night and the club still does not know what is wrong with the 46-year-old former Leyton Orient boss.
"We're hoping by the end of the week we'll know a prognosis," Baker said.
"I have been pressing the League Managers' Association who act for him and look after him," he told BBC Devon.
"It's a worrying time for his family and the most important thing is Martin, his family and his health.
"As soon as we know anything concrete we'll tell the world.
"Whatever happens we'll get through this and support Martin and his family."
In Ling's absence, assistant manager Shaun Taylor has taken over first-team duties and was the driving force behind earlier this week.
Baker says he has offered Taylor the chance to bring in some extra coaching help, but Taylor is happy with the team he has.
"It's something that's been on our minds," said Baker. "We have talked to Shaun about this already, he's said 'no'. He's happy with the team around him.
"He's drafted in Robbie Herrera from the youth side to help him.
"Shaun knows if he needs some help we'll get him it, but it's his call."