Real Madrid v Man Utd: Ferguson & Mourinho in battle of Bernabeu

By Phil McNulty
Chief football writer
Last updated on .From the section Football431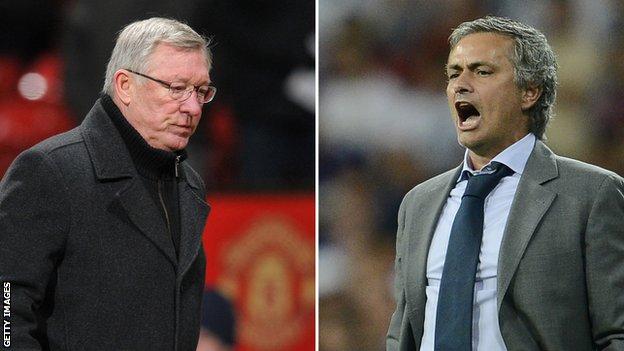 The cloak of European football's history was draped over the Bernabeu as Jose Mourinho renewed old Champions League acquaintances with Sir Alex Ferguson in Madrid.
A wintry chill swirled around the famous old arena where Bobby Charlton lay on the turf and wept tears of joy and relief in May 1968 when Manchester United took a giant stride to fulfilling their mission to those who died in the Munich air disaster 10 years earlier by overcoming Real Madrid to reach their first European Cup final.
Ferguson, ever aware of United's past, wants to add another chapter to their European glories but finds a club and a coach determined to ensure the Scot does not pass what he calls "the acid test" in Madrid on Wednesday.
Madrid want "La Decima" - a 10th triumph in Europe's elite tournament - to restate some of their superiority over their great Catalan rivals Barcelona. Mourinho wants it to take his own place in history as the first coach ever to win the tournament three times with three different clubs.
There was no escaping the sub-plots, or the body language, as Mourinho and Ferguson sat in front of their inquisitors in a packed media theatre at the Bernabeu.
Mourinho had already set the benchmark for the hyperbole by announcing this was "the match the world is waiting for." The waiting is almost over.
Mourinho likes to leave a Champions League triumph for clubs to remember him by, as he did at Porto and Inter Milan. And judging by the elements of open warfare evident in his dealings with the Spanish media on Tuesday, his mischievous streak suggests he would like nothing more than to do the same at Real Madrid.
This is the tournament that sustains Mourinho and Real. As Barcelona help themselves to La Liga, the Champions League is what is keeping Mourinho in his job. Real want it desperately - and whether they like Mourinho or not, they know he can give it to them.
It is this mixture of desperation and defiance that makes Real and Mourinho such dangerous opponents on Wednesday, thanks in no small part to the stellar talent shaped at Old Trafford by Sir Alex Ferguson, Cristiano Ronaldo.
Mourinho has spoken less than normal this season as his dealings with the media deteriorated. He was sullen but still on form at the Bernabeu, predictably fluttering his eyelashes towards the Premier League while settling one or two scores with his Spanish critics.
He was happy to soothe any worries Wayne Rooney may have - the smart money is on none - about being called "a freckled demon" and "a player and hooligan all rolled into one" by Spanish paper Marca.
Jose's response: "If I can support Rooney, it is just that I was called worse than that week by week."
The mood around Madrid's camp is one of discontent but Ferguson knows Mourinho is dismissed at United's peril. The Champions League is, of course, where he came in with his dance down the Old Trafford touchline on the way to winning the trophy with Porto in 2004.
Ferguson, in contrast, was about as relaxed as it was possible to be, laughing off "a hand grenade" question about Patrice Evra's private life and warning one journalist keen to remind him of every one of his 71 years: "It is against the law to force people into retirement."
And even at his age, it is clear this game in that legendary arena gets Ferguson's juices flowing. This, he believes, is his and Manchester United's natural habitat.
The serious part will come soon enough. How will Ferguson deal with the threat of Ronaldo? Will he ask Phil Jones to do a man marking job, as he did so effectively on Everton's Marouane Fellaini, or will it be frustration by numbers?
Ferguson's description of this game as the acid test is for one night only. If United do prevail and draw Barcelona further down the line, then this is only the acid test until the next time.
It was after the final defeat to Barcelona at Wembley in 2011 - "a hiding" in Ferguson's words - that he admitted finding a way to beat the Catalans was his main European challenge.
And, in confident mood, Ferguson believes the arrival of Robin van Persie and the growing maturity of that team will stand United in good stead not just for Wednesday night but also if they make further progress in the competition.
He said: "Van Persie has changed things this year. His contribution is there to be seen. We also try to build teams that last as well. We have a lot of young players and that gives us longevity and a consistent challenge every year.
"Hopefully the young squad will mature together and create a team that could win the Champions League again."
How Manchester United perform against Jose Mourinho's Real Madrid in the hothouse atmosphere of the Bernabeu on Wednesday may go some way to providing Ferguson's answers.