Celtic v Juventus: Neil Lennon angered by 'manhandling'
Last updated on .From the section Football611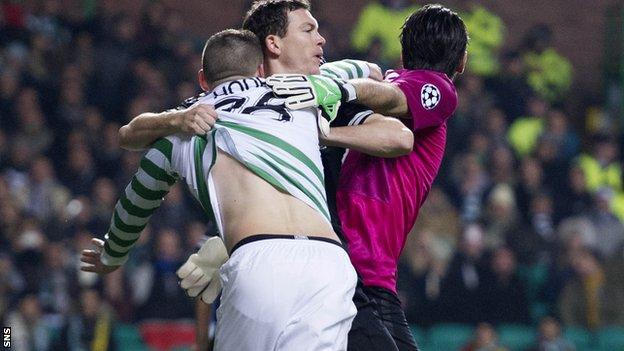 Celtic manager Neil Lennon was left fuming with the officials following his side's 3-0 defeat by Juventus in their Champions League last-16 first-leg.
The visiting defenders appeared to grapple Celtic players at set-pieces, with Spanish referee Alberto Undiano Mallenco refusing to award a penalty.
"They were being manhandled. They were being fouled. It's not rugby we're playing," said Lennon.
"Are the rules different in Spain or in Italy? On that showing, they must be."
The 41-year-old added: "It looked like the Juventus players were fouling at every opportunity.
"The referee was warned by our players to keep an eye on it and he ignored our requests.
"Every time we went to lose a marker we were being hauled back and the referee was looking straight at it."
However, Juventus manager Antonio Conte stayed away from any controversy when told about Lennon's assessment of the officials.
"Quite often in Italy we have the bad habit of over-criticising so I will leave it to the Celtic manager to criticise this evening," he said.
"Celtic are a good team but we knew this, and there was a fantastic crowd who were like two extra men and that can only drive a team on.
"So it was a difficult match for us, but we kept our heads.
"They played with great intensity but we showed great maturity and overall it was an excellent result for us."
Celtic midfielder Kris Commons was also left bewildered by events as he echoed his manager's comments and called for the officials behind the goal to take more action.
"Gary Hooper was pulled down to the ground on far too many occasions and we got no rewards," said Commons.
"You've got a referee there, a guy behind the goal, a linesman - the whole idea of the official behind the goal is to look out for this sort of stuff.
"If he can't identify when people are being hauled, manhandled, wrestled to the floor, then I don't think he should be in a job.
"He's 10 or 15 yards away and if it was a clear foul, it should have been a penalty.
The Glasgow side slumped to defeat as the Serie A outfit added to an early goal from Alessandro Matri with second-half strikes from Claudio Marchisio and Mirko Vucinic.
Commons revealed the referee warned the Juventus players on several occasions that their grappling may lead to a Celtic spot-kick.
Juventus defender Stephan Lichtsteiner and Celtic forward Gary Hooper were booked after a tussle as the former tried to protect keeper Gianluigi Buffon.
"He said if you do it again they'll get a penalty - that was in the first half," Commons said.
"He kept stopping it and booking people and telling people to stop it.
"It clearly had no effect because right up until the 91st minute when we had a corner, it was still going on."