Brendan Rodgers to speak to Liverpool players over racism fears
Last updated on .From the section Football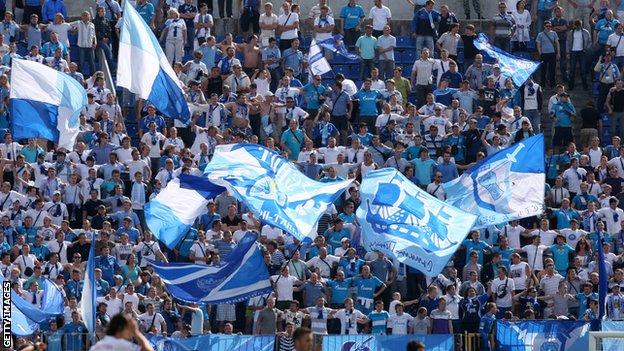 Liverpool manager Brendan Rodgers says he will speak to his players about handling potential racist abuse during Thursday's Europa League last-32 first-leg match at Zenit St Petersburg.
"I will make reference to it because we have players it could affect but we are here for football," said Rodgers.
Zenit have assured Liverpool the club's players and fans will feel safe.
The Russian champions issued a statement on Wednesday, stating: "The club's personnel and security services at the stadium have been working hard so that the players and fans alike would enjoy (Thursday's) match.
"Zenit have always condemned any form of racism. We hope our opponents share the same principles and (on Thursday) we all be treated to a great football match and passionate crowd support."
Prior to travelling to Russia, Liverpool had written to Uefa and Zenit "expressing their concerns".
Rodgers added: "We are very hopeful there will be a terrific game and anything that goes on outside the field will be taken care of.
"You go into the sporting arena and hopefully everyone from football, Uefa, referees and officials will support any player it may affect.
"There is no doubt if there is anything like that which is untoward, then us as a group we will do everything we can to support the player or players.
"We hope it is a game where the officials and Uefa can take care of all that."
Kevin-Prince Boateng led his AC Milan team off in the 25th minute of a friendly at Italian lower division side Pro Patria in January after being racially abused by fans.
Liverpool will advise their players not to walk off if any incidents occur but managing director Ian Ayre says the club will brief their players on how to deal with any racist incidents, should they occur.
"The most important thing for our players is that they remain professional throughout this," he said.
"We certainly won't tolerate that type of attitude or any of those types of incidents from our team. So the important thing is that we let them know how we expect them to act if there is an incident.
"I'd much rather we take the incident off the pitch and we deal with it. But we'll be briefing our players on what's acceptable and what's not."
Zenit's largest fans' group, Landscrona, said in an open letter that black players are "forced down Zenit's throat" in December.
They added that gay players are "unworthy of our great city".
Piara Powar, executive director of Football Against Racism in Europe (FARE), told BBC Sport: "I think for any black player, and I say this reluctantly, but particularly players of darker skin, who are easily identified as being of African heritage, they should be very cautious.
"Without wanting to pre-empt problems I certainly think this is one of those games that has the potential for tension, the fact that Liverpool have three or four prominent black players who will be vulnerable playing on the wings, and quite close to the crowd."