Champions League: Celtic out-thought by clinical Juventus

By Alasdair Lamont
BBC Scotland
Last updated on .From the section Football77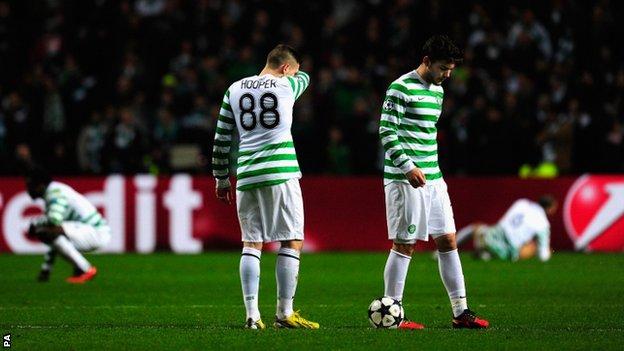 So, the heady pre-match optimism surrounding Celtic's prospects of a positive result against Juventus has been replaced by a large dose of realism.
The crescendo of noise inside Celtic Park on Champions League nights, with almost 60,000 green-and-white clad fans urging their side on to yet further glory, was echoed at full-time by the sound of all those hopes and dreams coming crashing back to earth.
Neil Lennon admitted in the wake of the 3-0 defeat that a miracle was now required to see his side through and not even the staunchest of supporters can now ponder a place in the last eight of Europe's elite competition.
However, while the curtain will come down on Celtic's European campaign on 3 March, there is little need for despondency.
Celtic were not outclassed by their more illustrious opponents on Tuesday, despite what the scoreline might suggest.
Out-thought perhaps, but not outplayed.
I asked Mikael Lustig in the mixed zone afterwards if Juventus, given the scoreline, were the best side Celtic had faced that season; better even than the Barcelona team that came to Glasgow and left with a 2-1 defeat.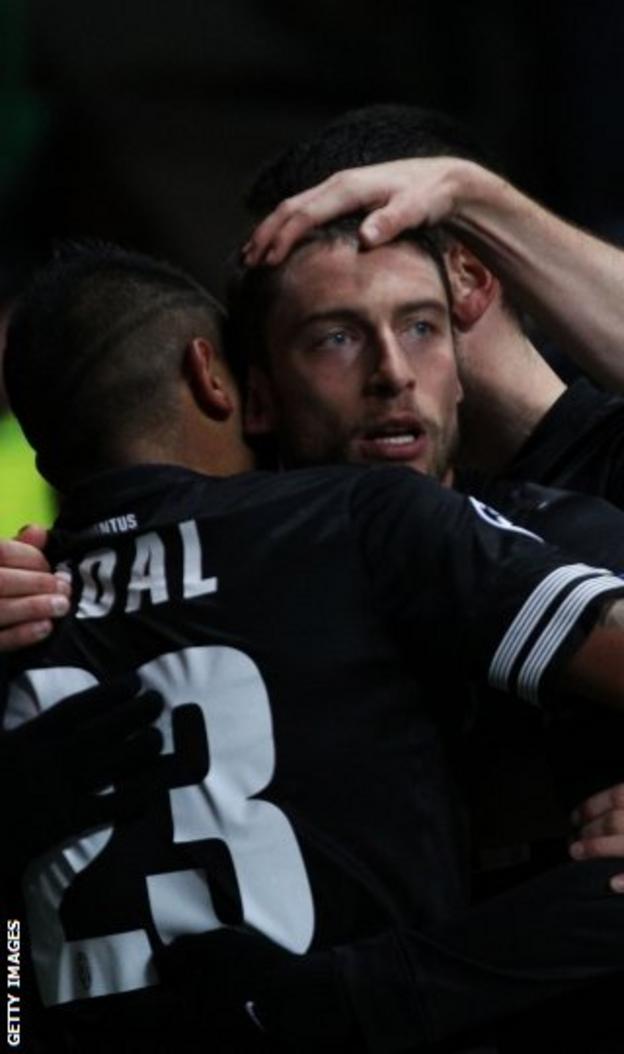 But no, insisted Lustig, Juventus may have departed with a handsome victory, but they were not as good as Barca.
Celtic had defended almost all night against the Catalans, but Juve had allowed Celtic possession and then hit them, albeit with ruthless precision, on the counter-attack.
Nor was this a case of Celtic producing a poor performance, certainly not on the whole, although Efe Ambrose had a night to forget and others, like Victor Wanyama, did not scale the heights they had previously.
It was a better display than the one at home to Benfica, beginning with genuine purpose. If - and it is a huge if - Celtic hadn't conceded as early as they did, the match might have been different.
By the same token, the match statistics may state that Celtic had 10 shots on target, but none of those really tested the Italian veteran Gigi Buffon.
Many were from outside the area and the one that should have beaten the keeper - from the head of Ambrose - instead landed tamely in his grasp.
Ultimately, then, Celtic were beaten not by a team that played scintillating football throughout, but rather one that did so just when it mattered, to clinical effect.
It will be of little consolation to Lennon and Celtic right now, but more can often be learned from defeat than from victory.
The earliest opportunity to turn that painful experience into worthwhile wisdom will come in Turin in three weeks' time, after which Lennon and Celtic can properly reflect on an honourable campaign, which brought greater rewards than most could have dared to expect.
Celtic have gained new respect in Europe and given Scottish football a tremendous lift when it was so badly needed.