Preston North End: Graham Westley will not resign
Last updated on .From the section Football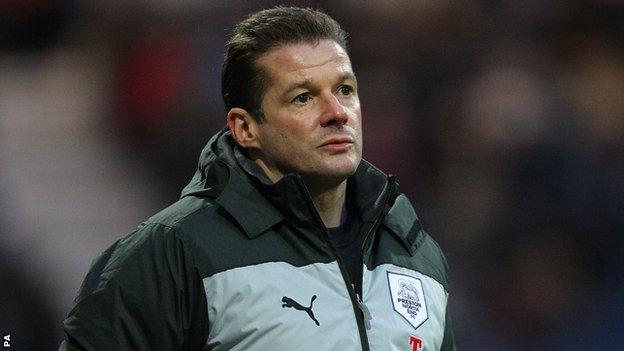 Under-pressure Preston North End manager Graham Westley says he will not walk away from his post at Deepdale.
"When things aren't working, it's my responsibility to do all I can to right them," he told BBC Radio Lancashire.
"I'm working in difficult circumstances with injuries. You've never seen me walk away from anything in my life, so don't expect me to [resign]."
He continued: "No manager in his right mind is going to be on the run that we're on and expect people to be happy.
"I'm not getting results and there's no hiding from that."
Preston's poor form has seen them slip just five points away from the League One drop zone.
However, former Stevenage boss Westley has been unaffected by talk of a relegation scrap.
"I never consider myself to be in a promotion battle and I never consider myself to be in a relegation battle," the 44-year-old said.
"I only ever consider myself in the business of winning the next game.
"We've had a dreadful run of results, and there's been a lot of coincidence - we lost some big players. (John) Mousinho, (Jack) King and (Scott) Laird have been out and the results have gone with those players.
"It may be that I can't put a team together, or maybe I'm putting a team together and we aren't putting enough quality into the team to win games."