Portsmouth's High Court hearing is adjourned again
Last updated on .From the section Football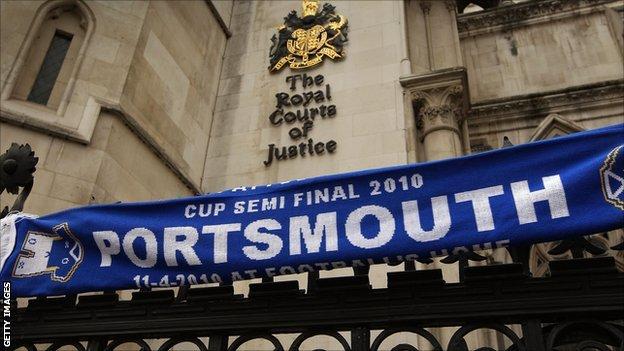 The High Court hearing to determine the future of Portsmouth Football Club has been adjourned for a fourth time.
It is understood an issue with support from the Professional Footballers' Association is the reason for the latest adjournment.
"Following on from the Football League statement we continue to work with PST as preferred bidders and prepare for the court application," said PKF.
The hearing has now been adjourned for a further seven days until 21 February.
The issue was raised in Parliament on Wednesday after MP Penny Mordaunt (Portsmouth North) asked the Prime Minister for his thoughts on the PFA's interference.
Mordaunt asked Mr Cameron: "Does the Prime Minister take a dim view of people who say one thing and do another, such as purporting to support fan ownership of football clubs while undermining the community buy-out of Pompey, as the Professional Footballers' Association has done this week?"
Mr Cameron replied: "First, may I wish my honourable friend well in her campaign to help Portsmouth Football Club? What she does is very important."
And spokesman Colin Farmery told BBC Radio Solent he was hopeful the issue with the PFA could be resolved quickly,
"On the face of it another adjournment is a frustrating delay," said Farmery.
"We want to work with the PFA and find a way that this can be resolved amicably.
"The bottom line is we have been negotiating with PFA for some time now and to be fair they have been quite supportive of what we are trying to do.
"But they are a trade union and they have to do right by their members, and if there is another offer out there then then they have look it it."
The PST added in a statement they had now agreed a £1.45m short-term loan with Portsmouth City Council and would be in a position from day one to buy Fratton Park along with their property partner Stuart Robinson.
The statement said: "Our bid is ready to go as we have been saying for some time now.
"We have around £2.5m in escrow from fan pledges and our individual investors, a figure we are confident will grow substantially once our bid proceeds."
Pompey have been in administration since February 2012 and are said to be around £61m in debt.
The preferred bidders, Pompey Supporters' Trust, have been approved by the Football League as well as the club's creditors.
But the Trust's takeover is conditional on the group taking control of the club's Fratton Park stadium.
The ground is currently controlled by the club's former owner, Balram Chainrai, who believes he is owed £12m by Pompey and holds the stadium as security via a fixed charge.
The PST had offered Chainrai £3m for the ground but the Hong Kong businessman has so far refused to sell.
PKF are attempting to force the sale of Fratton Park through the High Court, as well as seek an independent valuation, although the hearing has been adjourned several times.
Last week football financier Keith Harris launched a rival bid for the club but that was rejected by the Football League.
In a statement released last week the Football League said: "Any change of preferred bidder at such a late stage would only create further uncertainty.
"[It is] not in the wider interests of the League and its member clubs."
But BBC Radio Solent understands that the PFA wants more clarity over the rival Harris bid, in particular their stated aim of paying football creditors more promptly.