Real Madrid v Man Utd: Jose Mourinho says tie is wide open
Last updated on .From the section Football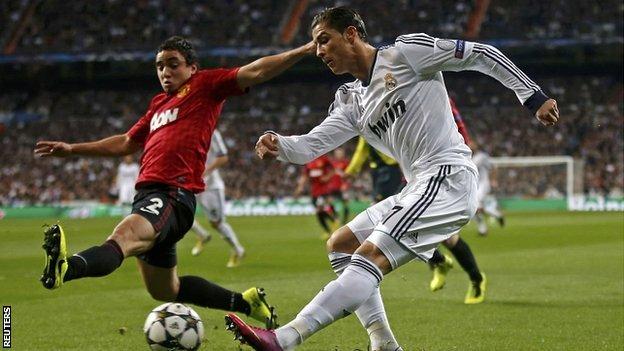 Real Madrid boss Jose Mourinho played down the significance of conceding an away goal to Manchester United in their last-16 Champions League encounter.
The tie stands at 1-1, after Cristiano Ronaldo's header cancelled out Danny Welbeck's opener in Madrid.
Real boss Mourinho said: "Everything is open for the second leg and I think this will go to the last minute.
"If you ask me for a percentage, it's 50/50. We can score more than one goal over there [at Old Trafford]."
In an open first half, Welbeck's header put United in front after Fabio Coentrao had hit the post, but Ronaldo scored against his old club with a towering leap before the break.
There were further opportunities for Coentrao and Robin van Persie in the second half but the away goal gives United a slender advantage going into the return fixture on 5 March.
United's David de Gea was the busier of the two keepers and as the game wore on it appeared United were content to settle for a draw.
And Mourinho said: "It was not a surprise, the match or the result. It was tactical for them not for us, they changed the way they played and [defended deep] in the second half.
"I don't think Rio Ferdinand or Jonny Evans put one foot in our half and they were waiting for a set-piece and a counter attack to score a second goal. We are a team that normally has to chase the game but they did well and the result is open."
He added: "They had two big chances in the second half but chances out of context because we were chasing the game. I think they gave everything, of course the game was difficult because we started strong.
"We had a big chance when Fabio Coentrao hit the post. The first chance they had, they scored. In the second half, they played for the result. Now is our time to go Old Trafford. 1-1 is not a bad result and everything is open and we can score more than one goal."
Real midfielder Xabi Alonso added that he was content with the result and echoed Mourinho's determination to attack in the second leg.
"It could have been better because we had chances but they had chances. So, we are looking forward to the second leg. It's quite open.
"We need to go for the win. We can't approach the second leg thinking about a draw. We want to go to Old Trafford to score goals."