Michael Laudrup intends to stay as Swansea City manager
Last updated on .From the section Football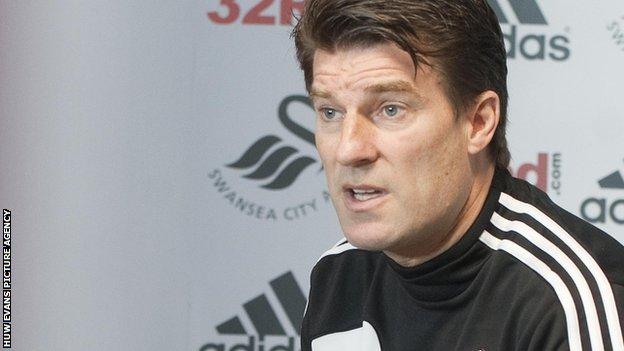 Manager Michael Laudrup has said he has every intention of staying at Swansea City.
Laudrup's agent Bayram Tutumlu has claimed contract talks with the club's board will begin soon.
The Dane, who was appointed Swansea boss last summer, has a deal until the end of next season.
"My intention is to stay. I have a contract for next year as well and I think it's a very interesting team we're building up here," Laudrup said.
"We will try to build on in the summer as well.
"Now we have to stay in the present and the present is the league and to get as many points as possible and to win the Cup final.
"Then let's see what happens next season with some new players coming in [and] the possibility of playing in Europe.
"It will be a very exciting season but first of all we have to finish this one."
Huw Jenkins, Swansea's chairman, confirmed last week he would like to extend the Dane's deal by 12 months.
Laudrup has led Swansea to their first major Cup final, the Capital One Cup final, but says the league remains the priority.
Seventh place Swansea are three points shy of the 40-point barrier and face Liverpool, managed by Laudrup's predecessor Brendan Rodgers, away on Sunday.
The Swans have spent the week training at Dubai's Sport City in preparation for the trip to Anfield and the League Cup final on 24 February.
"Being in a Cup final is a huge success for everybody in the city and the club. But the daily bread, if you can call it, that is the league," he added.
"You're talking about the magic 40 points, which in 95% of cases means that you will have another season [in the Premier League].
"We're just three points away from that with 36 points at stake.
"I think we're very close to the first target [and] I always said when we reached the 40 points we [will] look at how many games left and what could be the new target.
"When I came in July and talked about the syndrome of the second season [and] a very difficult year.
"We lost key players [Steven] Caulker and [Gylfi] Sigurdsson, Scott Sinclair and Joe Allen were sold for big money to Man City and Liverpool.
"Everybody thought we'd struggle down there, so to have 37 points after 26 games is way ahead our plans.
"We can go into this game [with] no pressure at all. All the pressure is on Liverpool, especially after they lost the other day to West Brom.
"But we still have to play the game. It's still an important game for us so we can't only focus on the final. We have to be focused."
Following Sunday's Premier League trip to Liverpool, Swansea will turn their attentions to the Capital One Cup final at Wembley a week later.
Swansea face League Two side and Cup giant-killers Bradford City and Laudrup recognises his side will be overwhelming favourites.
"We have to expect that we are the favourites and that's just how it is," said the former Denmark international.
"We have to be because we are playing in the Premiership and they're playing in League Two.
"In a couple of games we've been underdogs especially in the semi-final against Chelsea, against Liverpool at Anfield.
"But we've been favourites as well - we played Middlesbrough in the quarter-finals. I think we can handle that pressure.
"We're talking about a club who have never won any major trophy so to have that possibility is so big you can't imagine."