Real Madrid 1-1 Man Utd: David De Gea shines at Bernabeu

By Phil McNulty
Chief football writer
Last updated on .From the section Football452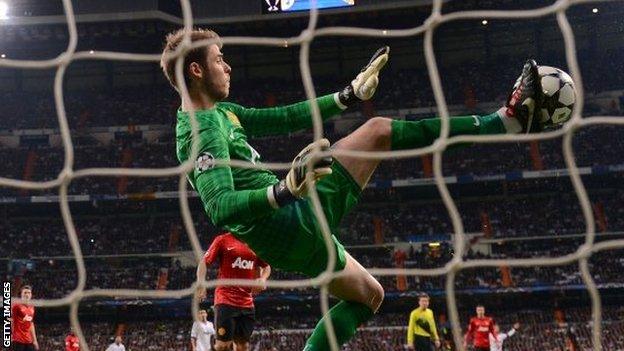 At The Bernabeu, Madrid
As David De Gea returned to Madrid and waited to step into enemy territory at The Bernabeu, Sir Alex Ferguson mapped out his Manchester United career along the lines of a baby learning to walk.
The child wobbles and falls before standing up. He wobbles again, then gets up once more, before finally feeling confident on his own feet. De Gea showed signs of now being ready to walk as he helped United secure a Champions League result of significance against Real Madrid in their own iconic football theatre.
De Gea, a proud son of Madrid and once of Real's local rivals Atletico, has been growing up in an unforgiving Premier League environment and the return to his home city was only going to expose the 22-year-old goalkeeper to further close scrutiny.
It was an examination he passed with some assurance as United earned a 1-1 draw that offers them every opportunity of cutting short Real Madrid's pursuit of "La Decima" - a tenth win in this tournament - and coach Jose Mourinho's quest to become the first man to win it three times with three different clubs.
This was the meeting Mourinho described as "the match the world wants to see". The world would not have been disappointed after events in this wonderfully atmospheric arena - and the world will be only too happy to watch a second episode at Old Trafford in three weeks' time.
Central to the action was De Gea, back in his homeland with points to prove to Spain and many others still questioning his worth, if not his manager. He went some way to supporting Ferguson's claims that the child is well on the way to becoming a man with arguably the finest display of his United career.
It must be placed in an important context. This was a match with De Gea's Achilles heel - the physical challenges of the Premier League that so test his slender frame - more or less removed. He was mainly required to stop shots, a scenario that plays to his strengths. It cannot yet be described as his defining moment.
Indeed, the only flaws in his display came when dealing with crosses but this is a very minor quibble on a night when he did himself great credit.
There can be no denying there was substance to this performance under pressure, particularly with two wonderful, contrasting stops from Fabio Coentrao, one an early diving touch that diverted his shot on to a post and a later block with his body at the near post that showed great instinct as well as a willingness to use all parts to protect his goal.
De Gea took the cheers of United's fans perched high in The Bernabeu at the final whistle, a deserved accolade for both keeper and team at the conclusion of a highly satisfactory night.
Ferguson announced with great conviction there would be goals. And there were - an early flicked header from Danny Welbeck that gave United the lead and a precious away goal; and another, inevitably, from former Old Trafford golden boy Cristiano Ronaldo that was a triumph of technique not to mention a defiance of gravity.
There could have been more goals, especially when the normally lethal Robin van Persie unluckily struck the bar and then carelessly allowed Xabi Alonso to clear off the line with a miscued finish.
It would have been harsh on Real and Mourinho had United won. They may be vulnerable at the back, especially at set pieces, but they are packed with menace at all angles in attack.
And this is why all Ferguson's optimistic words had a coating of caution. If United could score in The Bernabeu than Real showed more than enough to suggest they could do the same at Old Trafford. Much remains to be settled in this epic battle of two European heavyweights.
But there was plenty to admire in United's performance, from De Gea's defiance to Welbeck's willingness to run himself to a cramped standstill, along with Phil Jones' shielding of the back four and Rio Ferdinand's reminder that plenty of the old powers remain intact.
Every minute whetted the appetite for more at Old Trafford. Mourinho and Ferguson both agreed on odds of 50-50 over who will progress - but United have the goal and home advantage so they will be the happier.
And just in case United needed a warning against the dangers of complacency, it not only wrapped Ferguson in a warm embrace it also visited United's dressing room beneath The Bernabeu's towering five tiers.
Ronaldo headed for Ferguson at the final whistle to greet his old mentor then later joined his former colleagues to chat over old times. It was a renewal of acquaintances but also a flesh and blood confirmation of the biggest threat to their ambitions at Old Trafford.
A refusal to over-indulge in celebration when he equalised (The Bernabeu more than made up for his reluctance as his name echoed around the stadium) showed old comradeship still exists and he will undoubtedly be emotional at Old Trafford.
But with the ball at his feet, and indeed when it comes at him in the air, Ronaldo is quite simply the complete attacking specimen. Ferguson may have been playing to the Madrid gallery but his argument had merit when he suggested even Barcelona's Lionel Messi would not have pulled off his equaliser.
It all added extra strands to the threads that will be woven before the second leg at Old Trafford. And illustrated why the world will want to watch again.