Q&A: Neil Patey on Rangers
Last updated on .From the section Football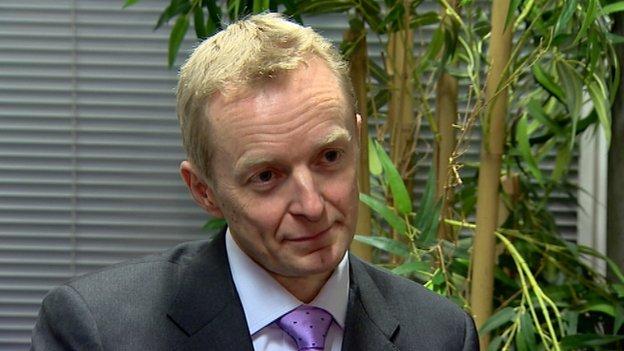 It is a year to the day that Rangers entered administration. The Ibrox club was forced into administration by HMRC over non-payment of tax reported to be about £14m, while under Craig Whyte's control.
Neil Patey, a partner at Ernst and Young, gives his view on the past 12 months.
Looking back on Rangers' finances over the past year, should it have come as a shock that the club went into administration?
There were a lot of issues that Rangers were facing. There was the debt which was reducing and there was the tax case. Ultimately, I don't think it should have gone into administration when it did and that was really the issue: Craig Whyte didn't pay off the VAT and PAYE that he should have from the period of his ownership. So, despite all the financial difficulties they were facing, they really shouldn't have gone into administration.
Should it have been in administration for as long as it was?
There's a lot of debate as to how long it took [administrators] Duff and Phelps. It was a complicated sale process for them. They ran quite an extensive marketing campaign in terms of trying to sell the business. It's difficult to pre-judge from the outside as to did it take longer than it should have.
Have Rangers, a year on, managed to secure their financial position?
I think you've got to look at where Rangers was less than a year ago: in administration, facing liquidation, potential debts in excess of £100m with a very large tax case. They're now a newco, debt-free, just had a very successful IPO raising in excess of £20m. Granted, they're in the Third Division, but they have a reduced cost base. The first-team has been slimmed down in terms of wage-earners, so financially they're very secure compared to where they were and should be in a position to trade that position through to promotion back to the SPL in three years' time.
What are the key business decisions that have been made this year?
The first thing was actually to rationalise the cost base because they were operating at too big a cost base for the income they had back in the SPL, never mind going down to Division Three. So, slimming down that first-team squad and wider playing squad. Then obviously the successful fundraising, bringing in £22m at a gross level of funds which will see them through at least two seasons, probably all the way through to the SPL. That was crucial in terms of securing the financial stability over the next year or so.
Will Charles Green and the consortium see the past year as being a success?
If I was Charles Green I'd be very happy. He's bought the club for £5.5m; has seen it through the difficulties; getting it to the Third Division; getting the cost base rationalised, but most importantly, a very successful fund-raise placed the valuation in excess of £45m and he paid £5.5m for the club so I think that has to be seen as a huge success in his eyes.
In financial terms, where do you expect the club to be in a year's time?
The cost base has been rationalised. We don't know exactly whether it's breaking even or running some sort of loss, but I don't think it's the sort of loss that should make the way through all the IPO funds in a year or so. So, I think it's continuing, getting promotion, growing the club from where it is but keeping control of the cost base until they can get back to the SPL and the riches that that entails: with promotion and getting into Europe and being able to access European prize money.
That's always the problem for clubs, isn't it? To be able to make those steps without shelling out for expensive players.
That's true. Rangers have a huge advantage as they make their way through the leagues: they've got a very loyal support; the season ticket sales have held up very well despite the fact they're in Division Three; the average home attendances are quite remarkable given the fact they're in Division Three. So, they have that income which gives them a financial advantage to gain promotion. They shouldn't have to over-extend themselves beyond their current means to get back to the SPL.
How do you think the events of the past year have damaged the club's financial reputation?
There is some history where things weren't done right at various times in Rangers' history and a lot of that revolves around what Craig Whyte did. From my point of view, this is a newco, it's a new management team and new owners, so I don't think they necessarily need to be tarnished by what's gone on in the past. There is obviously an on-going investigation that the SPL is going through and whether that leads to any sort of financial penalties or stripping of titles - and that is being associated with the club as part of their admission back into the football league - but I think the rest of the financial history can be assigned to previous owners and not to the current regime.
How has the business model changed?
Most importantly, they've just rationalised the cost-base and that really goes to the number of players and how much you are paying your first-team players. Although they're getting paid in excess of the average wage for the Third Division, it's well below what they were paying the Rangers squad in the SPL. That's the most important thing. Then you try to protect the revenue line which is primarily the season ticket sales and home match attendances and that has held up very well given their demotion down to the Third Division.