League Cup final: Swansea City's Roger Freestone's Wembley memories
By Aled Williams
BBC Wales Sport
Last updated on .From the section Football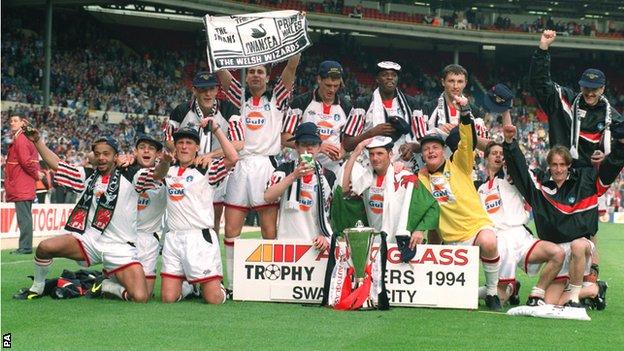 Swansea's Capital One Cup clash against Bradford City on Sunday will not be the Welsh club's first appearance in a Wembley Cup final.
The Swans were in the third tier of the league pyramid when they reached the final of the Football League Trophy in 1994.
But that first Wembley appearance 19 years ago seems a world away from the club's present fortunes in the Premier League.
Huddersfield, managed at the time by Neil Warnock, were the opposition and Swansea's goalkeeper that day recalls the sense of expectation leading up to the game.
"It was a massive occasion for the city," said Roger Freestone.
"It was the first time we had ever been to Wembley and I think we took about 25,000 supporters that day.
"As players it was going to be a great day out for us. To play at Wembley, when you play in the lower divisions, is a great achievement."
The day ended in triumph for Frank Burrows' side, who won 3-1 on penalties after extra time had failed to separate two sides locked at 1-1.
Captain John Cornforth, Kwame Ampadu and Steve Torpey had scored Swansea's spot kicks to put them in control while Graham Mitchell and Phil Starbuck missed for Huddersfield.
Swansea confirmed their victory when Freestone dived low to save Tom Cowan's kick to secure the victory, a major achievement at the time says the ex-goalkeeper.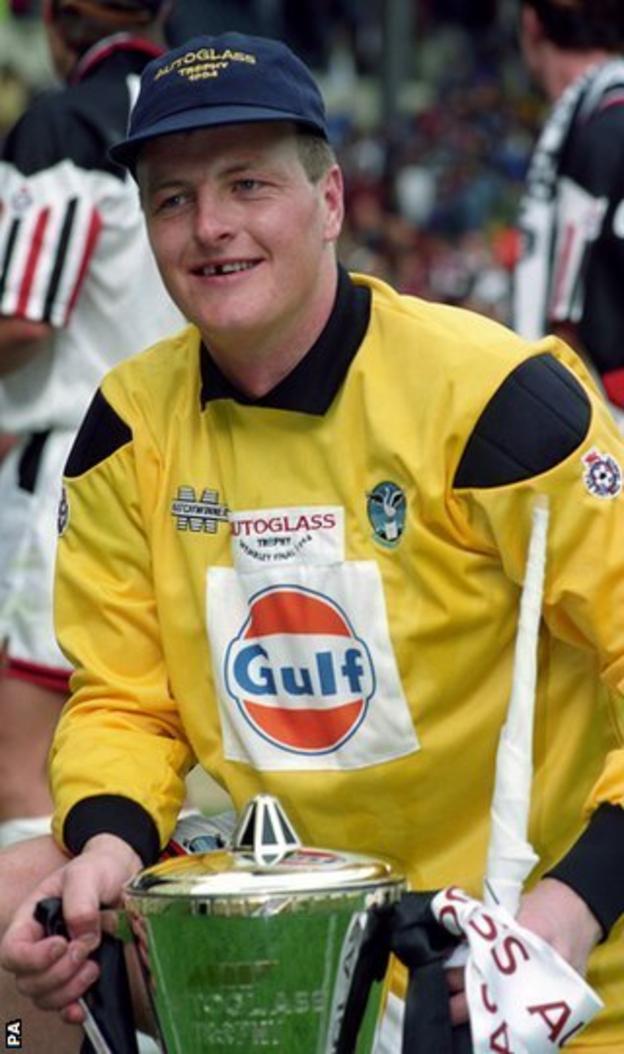 "I saved the last penalty and I didn't realise that we'd actually won until Lee Jones, the reserve goalkeeper, jumped all over me. Then reality hit home," Freestone remembers.
"People say it's only the Autoglass Trophy but to us boys in the lower divisions it was a major trophy.
"To walk up the steps behind John Cornforth and receive your winner's medal and the trophy was brilliant.
"For those 11 players plus the substitutes involved it was a very, very memorable day."
Freestone made more than 600 appearances for Swansea during his 13 years with the club, which followed an earlier loan spell at the Vetch.
Victory at Wembley was among the highlights which also included winning the Third Division title in 2000 under John Hollins.
However within a year Swansea's very existence was in the balance after Australian-based businessman Tony Petty took control of the club.
Petty attempted to sack seven players and slash the wages of eight others and they were only saved when a local consortium, led by ex-player Mel Nurse, bought the club.
But Swansea's problems did not end when Petty left and they faced a battle to stay in the Football League, with Brian Flynn by now at the helm.
Only a 4-2 win over Hull City on the final day of the 2003/2003 season avoided relegation to the Conference, and Freestone believes the club could easily have disappeared during those troubled times.
"The Tony Petty era, where the players weren't getting paid and he was taking money out of the club, was difficult," Freestone recalls.
"We weren't earning big money at that time. We were earning just like any other average person.
"It was quite scary because the football club could easily have folded.
"When we played against Hull City, if we had lost that game, we would have been relegated.
"There's not many teams that have been relegated into the Conference and have come straight back up and that could have been the death of Swansea City."
Now 44-years-old, Freestone still follows his former club's fortunes and has been at the Liberty Stadium this season to watch Michael Laudrup's side in action.
He has been amazed at Swansea's progress during the last 10 years under the stewardship of chairman Huw Jenkins and the board.
"It's amazing what the club have achieved in such a short space of time with the managers Kenny Jackett, Roberto Martinez, Brendan Rodgers and now Michael Laudrup," said Freestone, who won his only Wales cap against Brazil in 2000.
"The club has moved forward so quick it's unbelievable.
"I've sat down at the Liberty and watched the likes of Man United and Liverpool and thinking: '10, 15 years ago, it was more Scunthorpe.'
"The people in charge down there have been very wise in what they've done. They've got no debt, which is a massive achievement for any football club.
"If they can't afford to do things, they don't do it and the managers that have come in understand that and they live within their means.
"To be where they are in the Premier League and to do what they've done on a small budget is superb.
"They've had instilled into them about passing the ball and they do that with great aplomb. They pass a lot of teams off the pitch.
Sunday's opponents at Wembley, League Two's Bradford City, were in the Premier League 12 years ago.
Although fortunes are now reversed, with Swansea the Premier League club and favourites, Freestone says Bradford should not be written off.
Phil Parkinson's side have beaten Wigan Athletic, Arsenal and Aston Villa to reach the final.
"Bradford have proved over the run of this competition that they've beaten Premier League teams," said the ex-Chelsea and Newport County keeper.
"They've had a couple of poor results of late but that will count for nothing come the final.
"They will be up for it and speaking from my experience of playing against lower league opposition, it's very difficult. These players raise their game.
Freestone, however, is backing his old team: "Swansea have to be focused and have the right mental attitude to win the game."