Footballers may trial wearing microchips to monitor health
Last updated on .From the section Football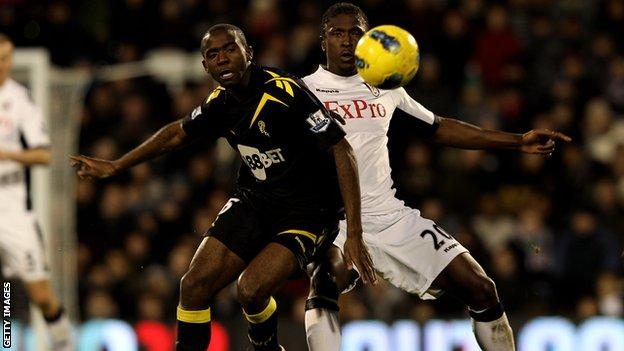 Footballers may soon be wearing an electronic chip in their shirt to help warn of medical problems.
The International Football Association Board (Ifab) will decide in March whether to run a trial of the system.
The measure is being considered after Bolton's Fabrice Muamba suffered a heart attack on the pitch last year.
Ifab, which makes the laws of football, consists of the FAs of England, Wales, Scotland and Northern Ireland who get a vote each, and Fifa, which has four.
Any electronic communication between the players and staff in the technical area is currently banned.
The issue will be on the agenda when Ifab has its annual meeting in Edinburgh on 3 March.
"We are looking at whether there are medical benefits, such as whether it can warn of problems such as Fabrice Muamba suffered, which would make it a no brainer for this to come in," Scottish FA chief executive Stewart Regan said.
"We are trying to consider whether or not things can make a positive difference in the game rather than just another example of technology being brought in.
"There is a chip in the shirt at the back of the player's neck and the data is fed back into a laptop."
The data that the chip will monitor includes heart performance, body temperature and the distance being covered.