Derby County: Gareth Roberts suspension forces loan search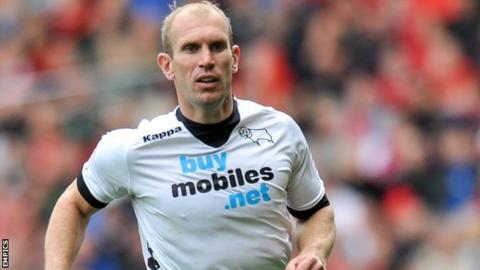 Derby County manager Nigel Clough says he will go to the loan market for the first time this season to replace suspended left-back Gareth Roberts.
The defender's three-match ban for his red card in the 2-1 defeat at Hull City on Tuesday has forced Clough to search for experienced cover.
Clough said: "We need a replacement and are waiting to hear back. When working with a small squad, you will miss a stalwart like that at left-back.
"We have lost a specialist position."
Clough added: "The only other one that we have really got is Michael Hoganson, who we think has an awful lot of potential, but has not played at this level before."
Rams chief executive Sam Rush told BBC Radio Derby last week that the loan window was being targeted as the cost effective way to strengthen the squad.
John Brayford is likely to continue in central defence as a result of injuries to Mark O'Brien, Jake Buxton and James O'Connor.
But Clough said it is still too soon to call on Valentin Gjokaj and Tom Naylor as starters against former Premier League side Wolves.
"The only problem is that they are unproven at this level," Clough said.
"For quite a few of them this is a development season and about getting a taste of it here and there where we can, but starting games against the likes of Wolves on Saturday might be a bit much at the moment.
"You put them in too early and it can have a detrimental effect on their development, and we don't want that to happen."