Arsene Wenger happy he signed Theo Walcott over Gareth Bale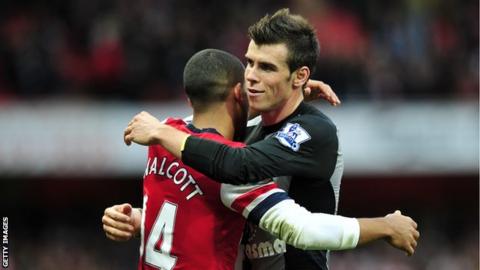 Arsenal manager Arsene Wenger says he has no regrets about his decision to sign Theo Walcott over Gareth Bale.
Arsenal scouted the 23-year-olds when they were Southampton teenagers but Wenger chose to take on Walcott in 2006 while Tottenham signed Bale in 2007.
Wenger said: "At some stage, we were on about taking the two if possible.
"But we could get Walcott and I am very happy we got him. You'd be amazed by the number of players we should have signed. Every club misses players."
Tottenham manager Andre Villas-Boas called Bale "incredible" after two stunning free-kicks from the Welsh winger helped Spurs beat Lyon in the Europa League first-leg match at White Hart Lane on Thursday.
The Wales international has now scored seven goals in his last five matches for club and country.
Bale's run of form has led to comparisons with Real Madrid star Cristiano Ronaldo and Barcelona's Lionel Messi, but Wenger says it is too early to measure the Welshman against the La Liga playmakers.
"Bale has the potential to develop and become the players that you compare him to," Wenger added.
"However, Messi has won two or three Champions League, a few championships, scored 95 goals in a year, so let's not go too quickly."