Gateshead move games to Hartlepool United's Victoria Park
Last updated on .From the section Football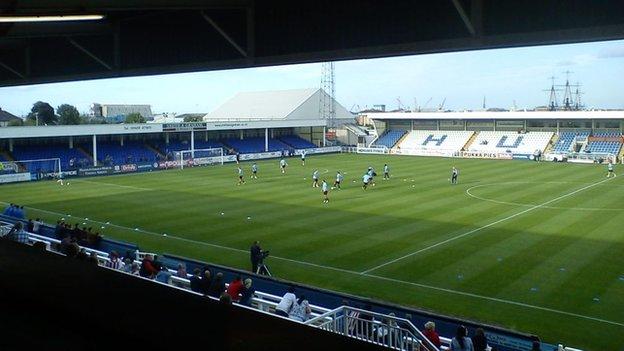 Gateshead have switched seven of their 12 remaining Blue Square Bet Premier home fixtures to Hartlepool United's Victoria Park ground.
Problems with the playing surface at their International Stadium have led to ten postponements to home matches already this season.
"Their chairman gave a directive to help us in any way," Gateshead chairman Graham Wood told BBC Newcastle.
"We expect to play at Victoria Park against Wrexham on Tuesday."
The games to be moved are as follows: Braintree (2 March), Hereford (19 March), Grimsby Town (26 March), Southport (30 March), Nuneaton (9 April) and Stockport (16 April).
Wood is hopeful of extending the agreement to cover all home fixtures still to be played but further negotiations are required to confirm the five remaining.
"Seven of the 12 they can accommodate because there is no clash, but the other five there would be," Wood continued.
"It is possible there could be some juggling around to involve the co-operation of several clubs, who would have to switch dates as well from a Saturday to a Sunday or Tuesday to Wednesday.
"The minimum is seven, the maximum is 12, and I say that with the possibility we won't get any further football at the International Stadium which is what we would like to do."
Pools chief executive Russ Green added: "We received a call from Gateshead explaining the situation with their pitch and were asked if we could help in any way.
"Fortunately, we're in a position where we can offer some assistance and we're more than happy to be able to help out a fellow north east club.
"Obviously it will entail quite a lot of work on the part of staff at Hartlepool United but we hope that by offering this help we can alleviate Gateshead's problem."
The pitch, which is also shared by rugby league club Gateshead Thunder, has been problematic since it was re-laid last summer.
but look likely to reconsider the venue for further matches.
"It was clear earlier on in the season there was something problems developing," Wood added.
"We've had a terrible winter and there have been postponements around the country. But there have been occasions recently where we have been the only game in the country off, not to mention locally.
"The other week you could watch football at Chester-le-Street or Jarrow Roofing but not at Gateshead.
"We've used up our free Tuesdays, and the Conference will not accept three games a week - i.e. Tuesday, Thursday and Saturday."