Gary Liggett and Stephen Lowry recall playing in Collingwood Cup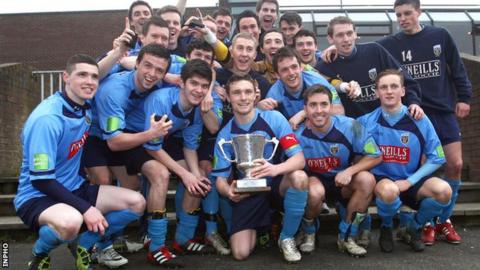 For Irish League players Gary Liggett and Stephen Lowry, the recollection of playing in the Collingwood Cup for universities evokes happy memories.
Ballymena United striker Liggett was part of the last University of Ulster, Jordanstown squad to win the competition in 2008.
"The tournament was held in Galway and it is one of the best footballing weeks I've ever had," said Liggett.
"The side I was part of included a lot of players who are now plying their trade in the Irish League, including my Ballymena team-mates Alan Teggart and Mark Surgenor, plus Cliftonville's Eamonn Seydak.
"We had a lot of quality and we deservedly won the final as we were the best team in the tournament.
"We beat our toughest opponents, UCD, on penalties in the first round had a lot of laughs off the pitch during the week as well."
The former Lisburn Distillery marksman took part in the competition during his first year at UUJ and was disappointed that he could not repeat the experience 12 months later.
"I was able to play during my first year as I was an amateur with Portadown, but once you signed for a club on a professional contract, you weren't allowed to take part in the Collingwood.
"I had joined Glenavon on a professional basis by the time of my second year, and to be honest I was gutted that I couldn't play for UUJ again.
"The same criteria ruled out the likes of Sean Ward, Albert Watson and Richard Clarke, who were all at UUJ at the time."
In-form Coleraine midfielder Stephen Lowry looks back on playing in the 2007 tournament as a "brilliant experience".
Lowry was a losing finalist for University of Ulster, Coleraine in the Irish universities competition, which is just one year away from celebrating its centenary, having first been held in 1914.
UCD beat the Coleraine team six years ago and the Dublin students will defend the trophy they have won on three occasions in the last four years in the 2013 tournament at the University of Ulster's Jordanstown campus from 25-28 February.
It will be only the second time that UUJ has hosted the competition, which they won for the first time in 1980, and have now tasted success in on six occasions.
"It is a fantastic competition and despite losing in the final I have happy memories of the week," said Lowry, who was on the books of Ballymena at the time.
"There were big crowds at the games in Dublin and it was a real buzz for us to play in the biggest football competition there is for students.
"The standard of football is good and it was extra special for me as I was picked to play for the Irish Universities team in Thailand on the basis of my performances in the Collingwood Cup."
Twelve teams will fight it out at Jordanstown to win the oldest all-Ireland senior football tournament.
Collingwood Cup draw:
First Round: UCC v NUI Galway; Trinity College Dublin v Queens University Belfast; NUI Maynooth v University of Limerick; DCU v University of Ulster Magee.
Byes: Royal College of Surgeons Ireland, University of Ulster Jordanstown, Mary Immaculate College Limerick, UCD.
Quarter-finals: (A) UCC/NUI Galway v TCD/Queens; (B) NUI Maynooth/UL v DCU/UU Magee ;(C) RCSI v UU Jordanstown; (D) Mary Immaculate College v UCD.
Semi-finals: Winner A v Winner B; Winner C v Winner D.