Ghana back coach Kwesi Appiah after Nations Cup failure
By Michael Oti Adjei
BBC Sport, Accra
Last updated on .From the section Football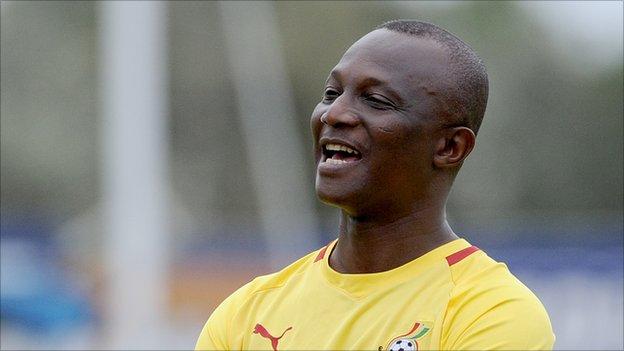 The Ghana Football Association (GFA) has retained Kwesi Appiah as coach, despite his failure to lead them to a first Nations Cup title in 31 years.
GFA president Kwesi Nyantekyie said, however, that firing Appiah was not the solution.
"We all admit that the performance of the team fell far below our expectations," Nyantekyie said.
"Even the coach admits there were some tactical issues that, if he is given a second chance, maybe he will do them differently.
"No human being is perfect."
Ghana sacked Frenchman Claude Le Roy and Serbian Goran Stevanovic after they both also only made the semi-final stage in 2008 and 2012, but Nyantekyie says their thinking has changed since.
"We do not believe that firing coaches all the time is the panacea of getting us to the promise land," he said.
"If the right things are not done we will never achieve the results. We want to say that the solution to the problem is not based on firing the coach.
"We need to take certain steps towards building the capacity of our technical team."
Nyantekyie also questioned the commitment of some of the players who represented Ghana and while Appiah refused to answer specific queries about the leadership of captain Asamoah Gyan, he claimed the performance of some young players bodes well for the future.
"At the moment I can assure the public that the technical team and the GFA are putting plans together to make sure we improve on our performance in future games," Appiah said.
"I totally believe that there is hope for the future, taking into consideration the performance of the younger ones, who showed if given the chance they can perform.
"We are looking at the future and we have seen more talents coming through.
"We will be looking at players who are really committed to play for the nation and will also continue monitoring both on the local and international scene to build a good team."
Appiah, a former Ghana captain, still has a lot of good will within the Ghanaian football community, but upcoming World Cup qualifiers could prove crucial to his future with the Black Stars trailing Zambia by three points in the 2014 qualifiers.