Arsenal v Bayern Munich: Future bright for Bavarians
By Raphael Honigstein
German football expert
Last updated on .From the section Football202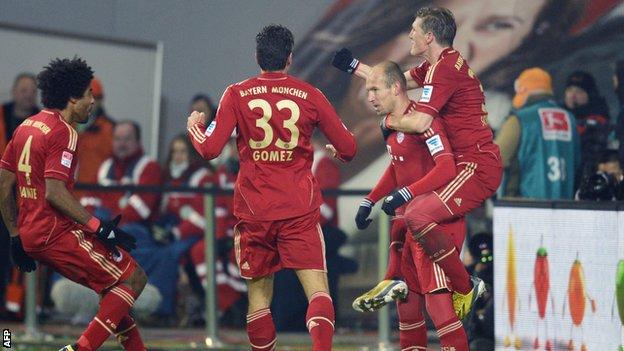 Pep Guardiola has wisely kept a low profile since last month's announcement that the 42-year-old will take over as Bayern Munich manager in the summer.
At first, president Uli Hoeness and the rest of the board could not contain their pride about pulling off "a coup for the whole of the Bundesliga", as German newspaper Suddeutsche Zeitung put it.
But the media frenzy quickly unnerved the squad and in particular incumbent manager Jupp Heynckes, who had to remind reporters that he was "still the boss" at Sabenerstrasse.
"When the deal was done, we talked of nothing else for a week," recounted midfielder Javi Martinez, adding that the Pep hype interfered with the team's preparation for the opening game after the winter break, a lacklustre 2-0 away win at lowly Furth.
Thus, the 24-year-old declined local tabloid tz's invitation to discuss his compatriot's possible impact this week. "It's better not to talk about it," he said.
A concerted effort by staff and players to ignore all Guardiola related questions has brought about some respite, as have five wins in five games, with five clean sheets. But "the Phantom of Central Park", as television channel Sport1 have described the coach - Guardiola is on a sabbatical with his family in New York - cannot be banished for too long.
Ahead of Bayern's 2-0 win at Wolfsburg on Friday night, the Catalan was reportedly sighted in Munich's Kafer restaurant, the Bayern board's unofficial club canteen. Important questions about the fly-by visit have remained unanswered, however. What did Pep eat? And did he manage to order in German?
On a more serious note, the timing of the talks between Guardiola and Bayern is intriguing. It is an open secret that the Bundesliga leaders are close to agreeing personal terms with Borussia Dortmund striker Robert Lewandowski, who is still under contract until 2014.
Munich newspaper Abendzeitung reported on Friday that Lewandowski was waiting for Guardiola's approval before committing himself further. "It's high time Bayern put their cards on the table, they usually behave correctly," said Dortmund chief executive Hans-Joachim Watzke, who was not best pleased.
An upcoming German FA Cup tie against the champions in Munich make this a politically sensitive issue.
There can be no doubt, however, that Guardiola and Bayern will have discussed other possible transfer targets.
British reports about a £100m-£200m "war chest" to go after high-profile targets like Tottenham winger Gareth Bale, Santos attacker Neymar or Atletico Madrid striker Falcao should be treated with extreme caution.
Bayern pride themselves on being run profitably and will be wary of upsetting their wage structure.
At the same time, this season's dealings perhaps signify a change of tack, towards truly global ambitions: Bayern happily paid over the odds for £34.5m Martinez, then pinched Guardiola from under the nose of Chelsea owner Roman Abramovich.
Going forward, it is possible that they will move even closer to Barcelona's three-tier strategy - a strong reliance on their youth system, coupled with the best of the rest of the league and the odd genuine superstar.
Last year's record turnover of £321.3m puts Bayern fourth behind Real Madrid, Barcelona and Manchester United in terms of revenue. Like these clubs, the Bavarians are not debt free.
About £86.1m is still outstanding on the building costs for the Allianz Arena, opened in 2005, but Hoeness has promised that the sum will be repaid in the next "three or four years".
"Then Bayern will be the wealthiest club in the world," he predicted.
A muted strategic investment by a third stakeholder (Adidas and Allianz hold just 18% of the club's shares) could bring that day about even sooner. Factor in plenty as of yet unrealised potential by Bayern and the Bundesliga to grow abroad - their international TV rights are approximately worth a tenth of that of the Premier League - and it is easy to see why Pep was persuaded.
In addition to their impressive figures, Hoeness will have stressed the "family" atmosphere at the state-of-the-art headquarters in Sabenerstrasse. Many former players, from Hoeness and chief executive Karl-Heinz Rummenigge down to merchandising manager Hansi Pflugler, are involved in the running of the club.
Employees take their lunch in a restaurant overlooking the main training pitch, and open sessions can routinely attract thousands of spectators.
For Arsenal, the Champions League meetings could prove uncomfortable, in more ways than one.
Their business model is similar to Bayern's, and they are spending a nearly identical amount of money on wages - £143m in 2011-12 compared to Bayern's £140m - but the two clubs have moved in opposite directions since last crossing swords in 2004-05.
Few Germans expect manager Arsene Wenger's side to trouble last year's runners-up. They have been in imperious form this season and lead the table with a 15-point gap ahead of champions Dortmund.
Guardiola will have enjoyed watching his future team's progress from Manhattan but you wonder at which point he will start to worry a little.
Former Bayern manager Ottmar Hitzfeld has warned that this year's stellar performances could pose their own problems for the Catalan. "If Heynckes was to win the treble, it will be much harder for Guardiola to come in, as the expectations would be even higher," said the 64-year-old.
That's undoubtedly true. But again, few men could be better suited to that near impossible task than Guardiola, the man who took a very good team and made it the best in the world.