Champions League: Barcelona in safe hands with Jordi Roura
By Andy West
BBC Sport, Barcelona
Last updated on .From the section Football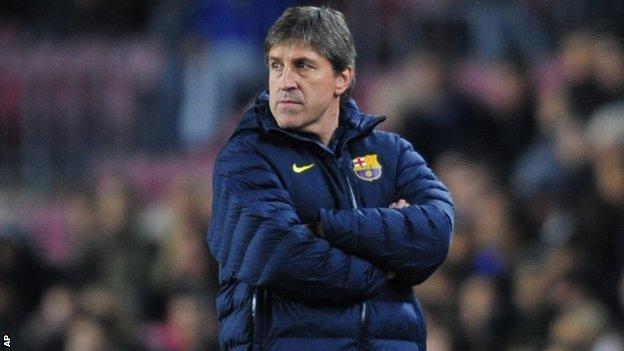 When Barcelona play AC Milan in the Champions League on Wednesday, manager Tito Vilanova will once more entrust one of his oldest friends with guiding his team through one of their most important games of the season.
Vilanova is in Memorial Sloan-Kettering Hospital in New York City for a course of treatment to help him recover from the throat cancer operation he underwent shortly before Christmas.
He has been in Manhattan for a month and is not expected to return to Spain until at least the middle of March.
Throughout his absence, Vilanova has stayed as involved in club affairs as his treatment and the distance between New York and Barcelona allows.
He has watched videos of games and training sessions, devised match strategies, constructed transfer plans with director of football Andoni Zubizarreta, and even occasionally exchanged brief messages with his coaching staff during matches.
On matchdays, however, the primary responsibility lies with his assistant, Jordi Roura, who is in sole charge of team talks, substitutions and in-game tactical changes - quite a tall order for a man with precious little prior management experience at any level.
However, Vilanova would not choose anybody else for the task.
He and Roura go back a long way. They are separated in age by just one year - Vilanova is 44, Roura 45 - and spent their teenage years as team-mates in Barcelona's famed La Masia youth development system.
Neither made it into the big time, but they remained close after going their separate ways and when Vilanova succeeded Pep Guardiola, another friend from those early years at La Masia, it was a logical decision to name Roura - who was already on Guardiola's coaching staff - as his number two.
Barca's players have appreciated Roura's contribution during the absence of their manager. Veteran midfielder Xavi last week told local newspaper Sport: "The situation is completely natural. The routines haven't changed but instead of Tito giving the team talks, it's now Jordi.
"I have spoken with Tito a few times. He's very happy with how the team is doing and soon he'll be back with us. Of course we miss him, but it's clear that Jordi now leads the team."
The results have certainly been positive. Following Saturday's comeback victory at Granada, Roura's managerial record makes impressive reading: played eight, won six, drawn two, lost none.
The next three weeks will present significant challenges, with Barca facing both legs of the AC Milan tie, the return match of the Spanish Cup semi-final against arch rivals Real Madrid and a league visit to the Bernabeu.
Wednesday night's game will be a particularly poignant occasion for Roura, because it was against AC Milan in the San Siro that he suffered the serious knee injury that effectively ended his playing career.
Roura was 22 years old and on the fringes of breaking into Johan Cruyff's Barcelona side when he gained a rare start for the second leg of the 1989 European Super Cup.
Facing the likes of Marco van Basten, Frank Rijkaard and Paolo Maldini was a dream opportunity for the young midfielder Roura, but it soon turned into a nightmare as he was stretchered off after just nine minutes with a torn cruciate knee ligament following an innocuous challenge with Van Basten.
Roura was never able to fully overcome the injury to recapture his previous promise and was ultimately forced into retirement at the tender age of 26.
He gained coaching experience in Japan before moving back to Catalonia for a variety of low-key appointments, and was eventually reunited with his old friends Guardiola and Vilanova when he was drafted into Barca's coaching team in 2009, with particular responsibility for assessing forthcoming opposition.
Roura's background makes him the archetypal 'safe pair of hands' during the Catalan club's current hour of need. Barca's free-flowing football obscures the fact that their style of play - both with and without the ball - is based around a highly structured and disciplined tactical framework that was initially instilled by Cruyff during his managerial reign more than two decades ago.
The nuances and details of the scheme can take months for new arrivals to fully grasp, but Roura's teenage progression through La Masia and into the first team under Cruyff mean that he has trodden the exactly same path as both Guardiola and Vilanova, allowing him to enjoy an intimate understanding of the playing system's intricacies.
And now, leading his boyhood club into the most exciting stage of their season, Roura has without doubt reached the pinnacle of his career.
Under the circumstances, though, he's certainly not deriving any pleasure from his newly elevated status. As Roura put it himself during one of his first press conferences deputising for Vilanova: "I hope I don't have to do this very often because it would mean that Tito is back.
"I am only here because my friend is in a difficult situation. We just want to get through this."
Victory at the San Siro on Wednesday would be just what the doctor ordered.