One letter, two meetings and 12 teams - the birth of league football
By Paul Fletcher
BBC Sport
Last updated on .From the section Football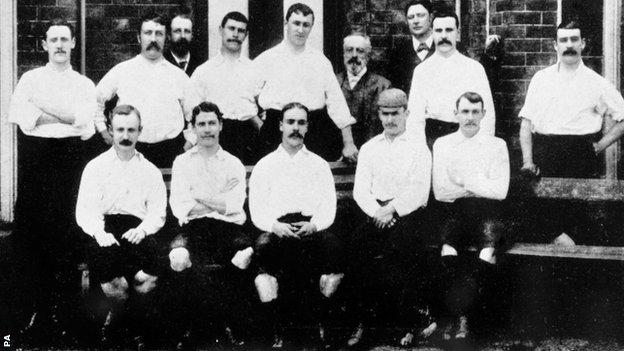 On Saturday afternoon, Manchester United will attempt to take another step towards their 20th top-flight title with victory over Norwich.
At the same time, the struggling trio of AFC Wimbledon, Accrington Stanley and Plymouth Argyle will all hope to improve their prospects of staying in League Two.
Over in Spain, one of football's most famous rivalries will play out another episode as Barcelona travel to Real Madrid for a La Liga fixture.
There will be drama and excitement, disappointment and triumph in league games all over the world - and their roots can be traced back to a letter written by William McGregor, then the secretary of Aston Villa, exactly 125 years earlier, on 2 March, 1888.
It remains a pivotal point in football's development because it is the moment when the idea of league football was given a public expression. Before that, the major clubs in England played mainly in cup competitions, with those games supplemented by a series of ad-hoc friendlies.
The Football Association, celebrating its 150th year in 2013, had formally legalised professionalism in 1885 but clubs needed a system that would given them a regular, reliable income.
"The McGregor letter is the start of Saturday at 3pm as we know it today," said Football League head of communications John Nagle. "It's the point at which professional football decides it has to get organised or be strangled at birth."
McGregor, a Perthshire-born draper, sent his letter to four other clubs - Blackburn, Bolton, Preston and West Brom - and included the line: "I beg to tender the following suggestion... that 10 or 12 of the most prominent clubs in England combine to arrange home-and-away fixtures each season."
He wrote the letter in pencil on the back of a draper's fashion plate and two weeks later all the concerned parties met at Anderton's Hotel in Fleet Street, London, to discuss the proposals.
It was here that a set of basic principles was agreed. Among these was the stipulation that a team should always field a full-strength side. It is the only one which remains in the Football League's rules and regulations today (rule 24.1).
A further meeting took place at the Royal Hotel, Manchester, on 17 April. It was there that the name "The Football League" was born.
McGregor had proposed "Association Football Union" but most in attendance felt that was too close to "Rugby Football Union". So when the representative from Preston, Major William Sudell, countered with "The Football League", the term was enthusiastically embraced.
The inaugural season kicked off with 12 teams on 8 September and was won by Preston North End, who went through the 22-game season unbeaten. They also won the FA Cup and became known as the Invincibles.
On the opening weekend, Preston beat Burnley 5-2, while Derby thrashed Bolton 6-3. Everton overcame Accrington 2-1 at Anfield, which later became the home of Liverpool, while West Brom won at Stoke and Wolves drew with Villa. The match between Blackburn and Notts County could not take place because the former had a friendly fixture against Newton Heath, who later became Manchester United.
The game back then looked very different to what we see today. The referee stood on the touchline, effectively a timekeeper who acted as an arbitrator when the two umpires (one from each team) could not agree. There were no nets, substitutes or numbers on shirts. If the light was fading, teams immediately switched sides at the break without the half-time interval.
It was not until the first season reached its midway stage that the points system was agreed. Some clubs felt none should be awarded for a drawn game, but at a meeting in Birmingham in November a motion was passed by six votes to four in favour of two for a win and one for a draw.
The Football League was not the first in world sport that comprised a fixed number of teams playing home and away matches. That particular honour belongs to baseball's National League in the US, which began in 1876.
But as McGregor himself noted in 1905: "No principle ever formulated in connection with sport has caused so much really genuine, bona-fide competition as the league system."
And in football, winning the league remains the prize cherished above all others.
McGregor, who also first suggested the idea of a league table, died aged 65 in 1911. By that time he had become something of a celebrity. He endorsed a "McGregor lace-to-toe football boot" and wrote a column in the Birmingham Gazette.
There are no known surviving copies of the letter he wrote but McGregor's legacy is obvious.
The Scot himself could not have put it better when he said that league football had spread to "practically every place of organised sport under the sun".