Chelsea: John Terry and Rafael Benitez dismiss rift talk
Last updated on .From the section Football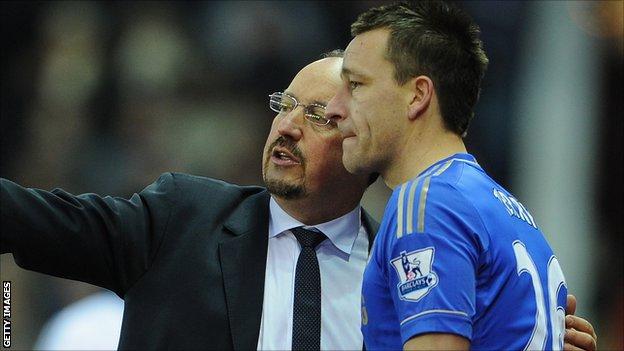 Chelsea interim boss Rafael Benitez and captain John Terry have called reports of a rift between them "rubbish".
A report on Sunday claimed Terry and Benitez clashed earlier this month, but the pair say they are on good terms.
Terry made only his third start under Benitez as he headed Chelsea's final goal in their 4-0 FA Cup victory.
"I read those stories in the paper but it is completely lazy journalism," said Terry. "It's total rubbish."
Terry, 32, who has been restricted to four matches in as many months because of a knee injury, added: "It was good to get on the scoresheet and good to be back.
"The manager knows me and I want to play. I have been out for two or three months (with a knee injury), but the other two (centre-backs) have been doing well.
"It's good to have competition."
That competition comes in the form of David Luiz, Gary Cahill and Branislav Ivanovic but Benitez backed up Terry's claim that their relationship was good.
"We were surprised today with some comments," said Benitez, who kept Chelsea on course for a fifth FA Cup triumph in seven seasons.
"It's totally rubbish. We didn't have any problem. We were talking about football with the team.
"He was training yesterday (Saturday), we had normal conversations. Everything was fine. I was really surprised."
The Blues have now won three matches in a row and Benitez wants to keep the run going.
"In football you have to win games, in a top side it's even more important," he said.
"I said before this is a team in transition, little by little we will see if we can improve."
Brentford boss Uwe Rosler felt the final score was harsh on his side.
"I think we did very well, I think we made their life very difficult," he said.
"It's disappointing that they scored (the first goal through Juan Mata) from a long kick (and) a shot from outside the box.
"(It was a) little disappointing the scoreline in the end was four, not really reflecting (the game)."