Crusaders and Cliftonville want protest game back at Seaview
Last updated on .From the section Football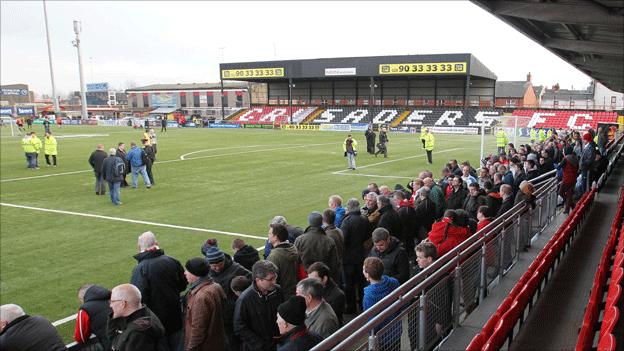 Crusaders and Cliftonville officials have said they are determined that Saturday's postponed Irish Premiership game should be re-staged at Seaview.
The Irish Premiership match between Crusaders and Cliftonville was called off on security advice following a loyalist protest outside the ground.
"We must get back to Seaview," said Cliftonville chairman Gerard Lawlor.
Crusaders director Mark Langhammer spoke of his disappointment that the match "had been targeted".
"I have to say that was a vindictive act."
Loyalist activist Willie Frazer attended Saturday's protest and the Crusaders director accused him of "turning up and wrecking a key sporting occasion".
"I think that's awful. Not just for the two clubs but for the civic life of Belfast," added Langhammer.
The Crusaders director added that all local "community interests" had been consulted prior to Saturday's scheduled match.
"We had worked from November with local residents to make sure this game was on.
"Local residents from Skegoneill Avenue did come to us in November. They had concerns and they put them to us strongly and robustly but fairly.
"And working through a range of meeting with the community and community interests, we had this sorted out by last Thursday.
"We were absolutely clear that there was no interest in the local community that was unhappy with this match going ahead."
Langhammer added that the Crusaders board had affirmed after Saturday's postponement to re-stage the game at their North Belfast ground.
"Probably, we need to buy ourselves a little time because there are practicalities as both clubs are still involved in every competition.
"(But) I can be very clear. It will not be at Windsor Park. We want the match at Seaview."
Cliftonville chairman Lawlor added that relationships between the two clubs have "never been better".
"I want to make very, very clear that Cliftonville are not looking that we don't go back to Seaview.
"These are our friends and we will work together."