Anthony Wordsworth cracks back vertebrae in Ipswich game
Last updated on .From the section Football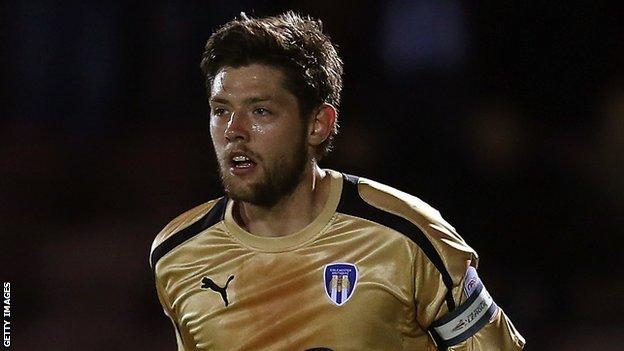 Ipswich Town midfielder Anthony Wordsworth may not feature again this season after learning he has fractured three vertebrae in his back.
The 24-year-old spent the weekend in hospital after colliding with
"He's not looking very good. He's cracked three vertebrae," boss Mick McCarthy told BBC Radio Suffolk.
"It won't require any surgery. It will heal. But it will be six weeks before he's doing anything really."
Wordsworth, was making his full Ipswich debut against the Seasiders, but sustained the injury when challenging for a cross from team-mate Daryl Murphy in the first half.
He attempted to carry on playing but had to be replaced by eventual match-winner Michael Chopra and was given gas and air to ease the pain.
"I told him 'Daryl Murphy will drift out wide and if he does he'll put in a good cross, so make sure you get into the box'," said McCarthy.
"He said 'I thought I better get into the box or the gaffer will kill me'. I didn't - the keeper did.
"We didn't know what it was at the time. When he went back on I thought he must just be winded. But he was in real pain.
"He's going to be a good player for us. He's a talented footballer."
Murphy picked up a knock of his own but is expected to be fit to face Watford on Tuesday night.
And keeper Scott Loach should have recovered well enough from a sprained thumb to play against his former club.