Wrexham boss Andy Morrell calls for league focus at Gateshead
Last updated on .From the section Football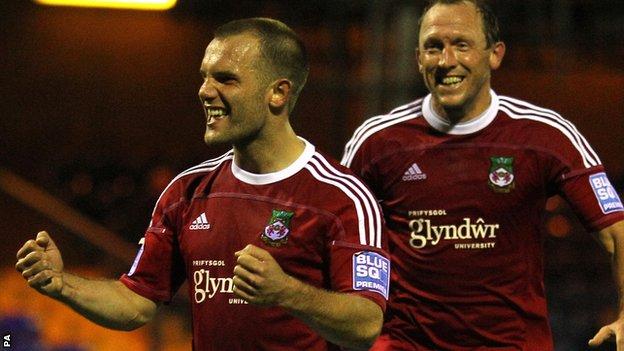 Wrexham boss Andy Morrell says his players will ignore a possible Wembley final trip to concentrate on Tuesday's League match at Gateshead.
But Morrell insists league form will take precedence over a possible FA Trophy final appearance.
"We just put it [FA Trophy] to the back of minds and get on with it," said Morrell.
A win at Gateshead could see Wrexham regain top spot in the Blue Square Bet Premier if leaders Grimsby lose or draw at Braintree.
And Morrell is confident in his players' professional approach and they will be able focus fully on league matters.
"The lads are a great bunch - they won't be bothered with it [a possible Wembley final]. It's just another game.
"But we have got a massive game at Gateshead. We have got to be bang at it to get something from that.
"Let's put them [Gainsborough] to the back of our minds and crack on with Gateshead.
"Let's get three points there and that puts pressure on [the teams around us] in the league.
"And then we will worry about the next game."
But Morrell admitted that a first-ever Wembley final for Wrexham would be a huge event for his players.
"It's a huge carrot. Not many non-league players get to play at Wembley so the rewards are huge." he said.
Goals from Danny Wright, Adrian Cieslewicz and Neil Ashton gave Wrexham a healthy 3-1 lead to take into the second leg at Gainsborough on Saturday.