Jersey's football future in good shape, says Dave Kennedy
Last updated on .From the section Football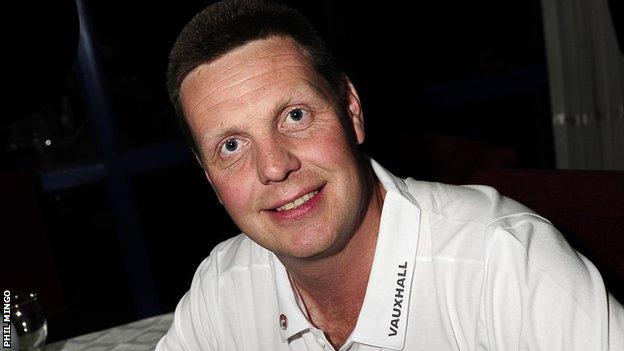 Jersey assistant manager Dave Kennedy feels that the island's young players possess a great deal of potential.
Kennedy's comments come before Jersey under-21's Muratti tie versus Guernsey.
"For the first time in a long time our under-21's will have a good representation of lads from the senior side," he told BBC Radio Jersey.
"We've got four lads in particular - Charlie Petulla, Jamie Mourant, Jay Giles and Matt Rondel - who've done well when called into the senior side."
He continued: "It's good to have that base of players to start us off, and then the other lads will come in and compliment that.
"We're keen to have a continuity between the under-18's, under-21's and seniors. What's been really helpful is that the under-21's have been training with the seniors.
"It's been good to get everybody together and let some of the younger players see the standard we expect from senior players."
Saturday's Muratti tie sees the two islands face each other in the annual Ambassadeur Bowl, which has been won by Jersey for three consecutive seasons.
The clash comes as the Jersey senior side prepare to represent England in the Uefa Regions Cup in San Marino, an honour which they took by winning the FA Inter-League Cup.
And Kennedy feels that this has proven to be added motivation for the island's players in training.
"The build-up to any Muratti is always something that's really special," Kennedy said.
"It's natural they are a little bit more focused because everyone wants to get into that starting eleven and represent their island.
"Obviously this year they have the added incentive of working alongside the senior lads who are going to San Marino."