Zambian Stoppila Sunzu settles TP Mazembe dispute
By Kennedy Gondwe
BBC Sport, Lusaka
Last updated on .From the section Football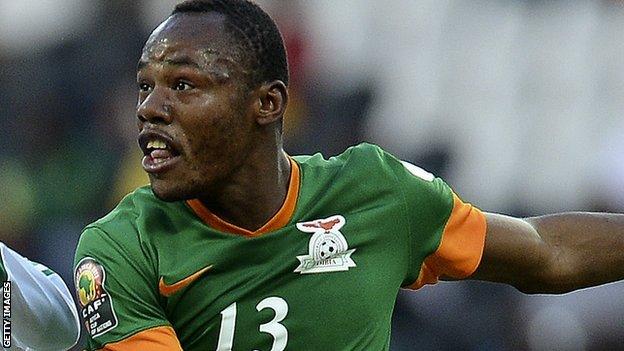 Zambia defender Stoppila Sunzu has resolved a contract dispute with TP Mazembe, after he failed to clinch a move to English side Reading.
His advisers had claimed that the player did not have a valid contract and that he was a free agent.
But the Lubumbashi side said his deal with them ran up until 2015.
Despite the Zambian passing a medical with the Royals, the ensuing dispute saw Reading pull out of the deal.
On Saturday, Mazembe held a meeting with the 23-year-old Chipolopolo player, where the contract issue was discussed.
"The matter has been resolved after we went through the contract with everyone and the player admitted his contract was still valid," Mazembe owner Moise Katumbi told BBC Sport.
"The problem is that his handlers have been lying to him so that he rebels against us.
"We suspect they wanted to get all his transfer fees by declaring him a free agent.
"TP Mazembe is a professional club and we will never stand in the way of our players as long as the right procedure is followed."
Katumbi claims that the four-time African champions had always wanted Sunzu to play in Europe, hence not registering him for this year's African Champions League.
"Reading have always been professional in this issue," Katumbi said.
"They are a wonderful club. That is why we cleared Sunzu [for a trial] and helped him get his visa to travel to England.
"If Sunzu didn't have a contract with us, why were Reading communicating with us to release the player for trials?
"Reading respect us but the problem are the agents who think they can just come to Africa and get our players for free."
Katumbi said the club will now wait for further offers for Sunzu, who was shortlisted for African Player of the Year and played for the Zambian side which exited the 2013 Africa Cup of Nations at the group stage - the first holders do so in 21 years.
"All we want is the right procedure to be followed," Katumbi said.
"If there are any clubs interested in him, we won't stop him from leaving but those clubs must talk to us."
The Zambian defender says he is happy that the matter has been resolved.
"I will respect the contract with Mazembe and wait for offers," he said.
Sunzu added that despite not being registered for this year's African Champions League competition, he will continue working hard until he secures a move to Europe.